Fisheries Management Zone 11 (FMZ 11)
Find information about fishing and how fish resources are managed in Fisheries Management Zone 11 (North Bay and Temagami).
Lake Nipissing is managed through a separate planning process.
News and updates
New fish sanctuary in Lady Evelyn Smoothwater Provincial Park in 2022
As of January 2022, there are new year-round sanctuaries (meaning no fishing) on:
Little White Pine Lake
Little Aurora Lake
Aurora Lake
connecting streams within Lady Evelyn Smoothwater Provincial Park
The purpose of these sanctuaries is to protect and conserve the re-established naturally reproducing populations of aurora trout.
Read the Ontario Fishing Regulation Summary for more information.
FMZ 11 management plan update 2020
The Fisheries Management Zone 11 management plan was finalized in 2020.
We made several changes to fishing regulations in Fisheries Management Zone 11 through the planning process. You can read these changes on the Environmental Registry.
Read the Ontario Fishing Regulations Summary for more information on fishing regulations.
Fishing regulations
You can:
About this zone
FMZ 11 is located in northeast Ontario. This zone has:
the large, popular fisheries of Lake Nipissing and Lake Temagami
the smallest area of the northern Ontario FMZs
valuable recreational and tourism industries
important fisheries including walleye, northern pike, lake trout, muskellunge and smallmouth bass
FMZ 11 is one of 20 fisheries management zones in the province.
Location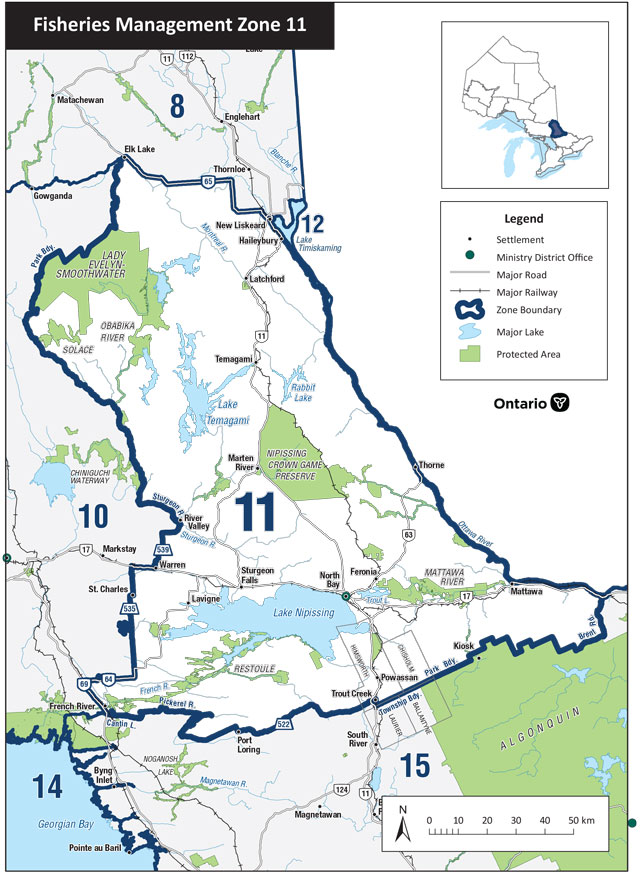 FMZ 11:
the Ottawa River and Lake Temiskaming (FMZ 12) form the eastern border
the southern border follows the Pickerel River, Highway 522 and Algonquin Park's northern boundary
cities include North Bay, Temagami, Sturgeon Falls and New Liskeard
Legal boundary map and detail maps
Legal boundary map for FMZ 11 and detail maps 1 - 11 (PDF)
FMZ 11 monitoring reports and management plans
Zone advisory council
The FMZ 11 council provides advice during the development of fisheries objectives and strategies.
Council members represent a broad range of views including:
angling groups
scientists and researchers
conservation groups
interested community members
The advisory council participates in fisheries management by:
sharing ideas and expertise with the ministry
helping to develop and implement management strategies
communicating with the local and angling community
For more information about the Fisheries Management Zone 11 advisory council, please contact:
General fishing regulations
Dip net for lake whitefish and lake herring in Fisheries Management Zone 11 (North Bay and Temagami)
You can dip net for lake whitefish and lake herring only in these designated waters:
Bigfish Lake (46°19'39"N., 79°09'50"W.) – Phelps Township
Blanche River (47°33'40"N., 79°32'02"W.) – Harris Township
Cassidy (Bass) Lake (47°21'33"N., 79°43'04"W.) – Gillies Limit Township
Gillies Lake (47°22'40"N., 79°44'38"W.) – Coleman Township
Hammond Lake – Hudson Township
Kitt Lake (47°21'03"N., 79°55'28"W.) – Kittson Township
Lower Twin Lake (46°58'47"N., 79°44'15"W.) – Riddell Township
Memesagamesing Lake (46°01'25"N., 79°59'39"W.) – Hardy Township
Net Creek (47°04'49"N., 79°43'46"W.) - Cassels Township
Red Cedar Lake (46°42'45"N., 79°56'14"W.) – McCallum and Thistle Townships
Restoule Lake (46°03'14"N., 79°46'19"W.) – Patterson Township
Ross Lake (46°59'12"N., 79°33'12"W.) – Eldridge Township
Thieving Bear Creek – Best Township
Tilliard Lake (46°20'02"N., 79°09'10"W.) – Phelps Township
Upper Twin Lake (47°00'30"N., 79°45'16"W.) – Riddell Township
Updated: November 23, 2022
Published: October 22, 2021