Fisheries Management Zone 8 (FMZ 8)
Information about fishing and how fish resources are managed in Fisheries Management Zone 8 (Cochrane, Timmins, Kirkland Lake).
News and updates
Fisheries management planning is not currently underway for this zone. Contact your local ministry district office for more information.
Fishing rules
You can:
About this zone
FMZ 8 is located in northeast Ontario. This zone has:
large river systems draining into the Arctic watershed
relatively small, shallow lakes
prominent fisheries for walleye, northern pike, brook trout, aurora trout
brook trout and lake trout stocked into many lakes
FMZ 8 is one of 20 fisheries management zones in the province.
Location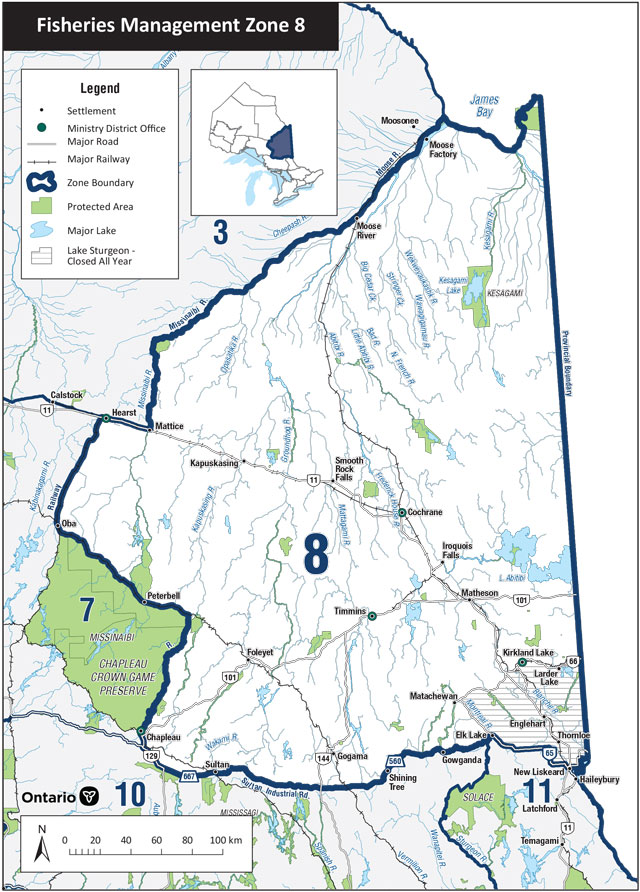 FMZ 8:
the Quebec border between Lake Timiskaming and James Bay forms the eastern boundary
stretches north to James Bay's southern coast
bounded by FMZ 3 to the northeast, FMZ 7 to the west and FMZs 10, 11 and 12 to the south
cities include Cochrane, Hearst, Timmins, Kirkland Lake, Kapuskasing, Gogama
Legal boundary map and detail maps
Legal boundary map for FMZ 8 and detail maps 1 - 5.1 (PDF)
Monitoring reports and management plans
None at this time.
Zone advisory council
This fisheries management zone does not have an advisory council yet.
General fishing rules
Updated: November 30, 2022
Published: July 17, 2014