Fisheries Management Zone 7 (FMZ 7)
Information about fishing and how fish resources are managed in Fisheries Management Zone 7 (Nipigon, Geraldton, Manitouwadge, Wawa).
News and updates
Fisheries management planning is not currently underway for this zone. Contact your local ministry district office for more information.
Fishing rules
You can:
About this zone
FMZ 7 is located in northern Ontario. This zone has:
a long stretch of Lake Superior shoreline
important recreational and tourism-based fisheries
prominent fisheries for walleye, northern pike, lake trout, brook trout
brook trout stocked into many lakes
Pukaskwa Provincial Park and the Chapleau Crown Game Preserve
FMZ 7 is one of 20 fisheries management zones in the province.
Location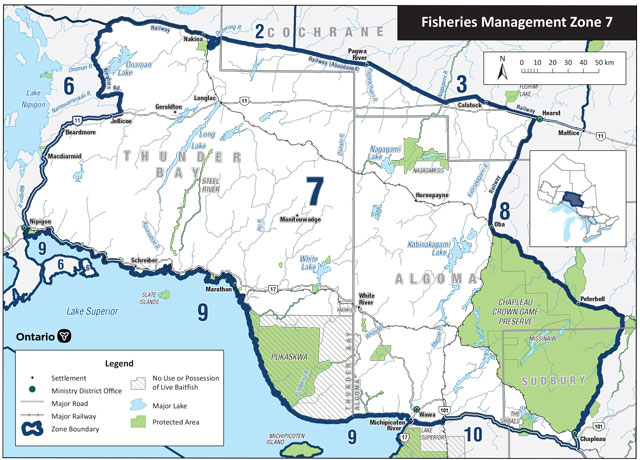 FMZ 7:
to the south, follows Lake Superior from the Nipigon River to the Michipicotan River
the communities of Hearst and Nakina lie along the northern boundary
takes in Michipicotan Island
cities include Nipigon, Geraldton, Manitouwadge, Wawa
Legal boundary map and detail maps
Legal boundary map for FMZ 7 and detail maps 1 - 12 (PDF)
Monitoring reports and management plans
None at this time.
Zone advisory council
This fisheries management zone does not have an advisory council yet.
General fishing rules
Updated: November 23, 2022
Published: July 17, 2014