Heart-leaved plantain
Scientific name: Plantago cordata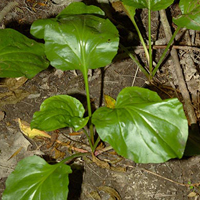 Cover photo credit: Allen Woodliffe
Status
Endangered
"Endangered" means the species lives in the wild in Ontario but is facing imminent extinction or extirpation.
Date added to the Species at Risk in Ontario List
The Heart-leaved plantain was already assessed as endangered when the Endangered Species Act took effect in 2008.
What it looks like
Heart-leaved Plantain is a perennial herb that forms a rosette of large, egg-shaped to heart-shaped leaves that are 10 to 25 centimetres long. The distinctive leaves are evident only in the summer, while smaller, narrower leaves are produced in the cooler seasons.
Small purplish-green flowers grow on a narrow spike that reaches up to 30 centimetres high. The fruit capsule contains two to four dark brown seeds, each about three to four millimetres long.
Where it lives
A semi-aquatic plant, Heart-leaved Plantain is found in relatively undisturbed wet woods, often along the rocky or gravelly limestone beds of shallow, slow-moving clear streams.
Moisture is generally always present above or just below the soil surface. The most common trees in Ontario woodlots associated with this plant are Sugar Maple (Acer saccharum), Silver Maple (Acer saccharinum), Red Maple (Acer rubrum), Blue-beech (Carpinus caroliniana), Shagbark Hickory (Carya ovata), White Ash (Fraxinus americana), Black Ash (F. pennsylvanica) and Basswood (Tilia americana).
Where it's been found in Ontario
Heart-leaved Plantain occurs across eastern North America, ranging from eastern Iowa to western New York, south to northern Florida. However, its distribution is very patchy across this range.
In Canada, Heart-leaved Plantain grows in just two locations in southwestern Ontario.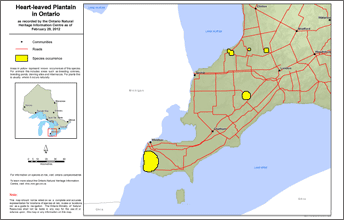 View a Larger version of this map (PDF)
What threatens it
The primary threat to Heart-leaved Plantain is habitat loss and degradation, with many of the historic sites lost to agricultural uses.
The species is very sensitive to water quality and quantity impacts that may result from upstream agriculture or development.
Action we are taking
Endangered Species and their general habitat are automatically protected
Recovery strategy
A recovery strategy advises the ministry on ways to ensure healthy numbers of the species return to Ontario.
Read the executive summary (June 15, 2012)
Read the recovery strategy (June 15, 2012)
Government response statement
A government response statement outlines the actions the government intends to take or support to help recover the species.
Read the government response statement (May 31, 2013)
Five-year review of progress
A five-year review of progress made toward protecting and recovering a species is required no later than five years after the government response statement for that species is published.
Read the report on progress towards the protection and recovery of 17 species at risk, including the Heart-Leaved Plantain (2018).
Habitat protection
General Habitat Protection - June 30, 2008
What you can do
Report a sighting
Report a sighting of an endangered animal or plant to the Natural Heritage Information Centre. Photographs with specific locations or mapping coordinates are always helpful.
Volunteer
Volunteer with your local nature club or provincial park to participate in surveys or stewardship work focused on species at risk.
Be a good steward
Private land owners have a very important role to play in species recovery. If you find Heart-leaved plantain on your land, you may be eligible for stewardship programs that support the protection and recovery of species at risk and their habitats.
The Canada-Ontario Farm Stewardship Program is available to farmers registered under the Canada-Ontario Environmental Farm Plan to encourage greater protection and conservation of habitat for species at risk.
Report illegal activity
Quick facts
Heart-leaved Plantain is capable of self-pollinating but generally the seeds are wind-pollinated.
The seeds of this plant are very buoyant and are covered by a mucous that allows them to stick to objects floating in the water, so they are easily dispersed.
Aboriginal peoples used Heart-leaved Plantain leaves as a poultice to dress wounds and to help heal burns.
A genetic study with samples from six American states and Ontario found that there is very little genetic variation in the species.
Updated: August 12, 2021
Published: July 18, 2014