Hudsonian Godwit
Scientific name: Limosa haemastica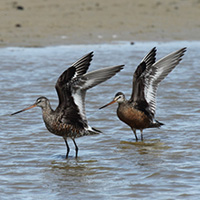 Photo credit: Mike Burrell
Status
Threatened
"Threatened" means the species lives in the wild in Ontario, is not endangered, but is likely to become endangered if steps are not taken to address factors threatening it.
Date added to the Species at Risk in Ontario List
January 26, 2022
Read the assessment report (PDF)
What it looks like
The Hudsonian Godwit is a large, long-legged shorebird in the sandpiper family with a long, slightly upturned bill. Males are smaller and lighter than females and have a distinctive red chest, while females are a lighter rust colour during the breeding season. Both males and females are greyish-brown in non-breeding plumage.
Where it lives
Hudsonian Godwit has one of the longest migrations of any North American shorebird. It travels approximately 32,000 km round trip annually between its breeding areas in the north and wintering grounds in South America. This bird uses a wide variety of habitats during migration, such as freshwater marshes, saline lakes, flooded fields, shallow ponds, coastal wetlands and mudflats. It overwinters in the southernmost regions of South America. There are only three known breeding areas for this species:
the Hudson Bay Lowlands of Ontario and Manitoba
the Mackenzie Delta in the Northwest Territories
southwestern Alaska
Where it's been found in Ontario
In Ontario, Hudsonian Godwit only breeds along the coast of James Bay. It breeds in wetland habitats such as sedge meadows and muskeg. It has been detected during the breeding season in large fens 40 to 50 km inland from the coast and occasionally as much as 100 km inland.
What threatens it
Hudsonian Godwit faces numerous threats. Climate change, resulting in severe weather events, and natural system modifications are ranked as the highest threats. Climate change may cause flooding of nesting habitats due to sea level rise. Hudsonian Godwit nest in areas with the hyperabundant Snow Goose (Chen caerulescens), which can potentially degrade habitats due to overgrazing. It is also threatened by loss of habitat and disturbance at some of its migratory stopover sites and at its wintering grounds in South America.
Action we are taking
Threatened species and their habitat are protected under Ontario's Endangered Species Act, 2007.
What you can do
Report a sighting
Submit your observations of species at risk to the Natural Heritage Information Centre (NHIC), which is Ontario's conservation data centre. Join the "(NHIC) Rare Species of Ontario" project in iNaturalist to make submitting your observations quick and easy.
Volunteer
Volunteer with species at risk programs, such as community science surveys, through your local nature club, a provincial park or other conservation organizations.
Be a good steward
Individuals, communities and organizations across the province who undertake stewardship or research activities that benefit species at risk and their habitats may be eligible to receive funding through the Species at Risk Stewardship Program (SARSP). The SARSP was created to encourage people to get involved in protecting and recovering species at risk in Ontario through stewardship actions.
Report illegal activity
Report any illegal activity related to species at risk to 1-866-MOE-TIPS (663-8477).
Quick facts
This species is difficult to survey on its nesting ground because of the remote and inaccessible habitats that it uses.
The Ontario population is estimated to be between 2500 to 5000 mature individuals, or 3 to 6% of the global population.
Hudsonian Godwit has one of the longest migration routes among Western Hemisphere shorebirds and covers much of the distance through non-stop flights spanning multiple days.
Updated: February 22, 2022
Published: February 22, 2022