Incurved grizzled moss
Scientific name: Ptychomitrium incurvum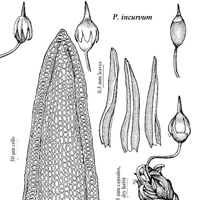 Cover photo credit: P.M. Eckel
Status
Extirpated
" Extirpated " means the species lives somewhere in the world, and at one time lived in the wild in Ontario, but no longer lives in the wild in Ontario.
Date added to the Species at Risk in Ontario List
The Incurved Grizzled Moss was already listed as extirpated when the Endangered Species Act took effect in 2008.
Read the assessment report.
What it looks like
The Incurved Grizzled Moss grows in small blackish-green tufts in crevices on dry rocks and on the base of trees in deciduous forests. The leaves, which measure about two millimetres in length, are narrow, concave, and rounded at the hood-shaped apex. They are curled when dry and erect-spreading and somewhat incurved when moist. They are characteristically glossy. The sporophyte (a spore-filled capsule) is erect, reaching up to five millimetres in height.
Where it lives
This small moss grows in eastern deciduous hardwood forests, inhabiting surfaces or tiny crevices of exposed or protected rocks of variable types. It rarely occurs at the base of trees or on logs.
Where it's been found in Ontario
In Canada, the only known location for the species is a single record dated 1828 from a boulder near Niagara Falls in southern Ontario. The species has never been rediscovered here.
Incurved Grizzled Moss is found in eastern North America and Europe. It is considered relatively common in the southeastern United States.
Why it disappeared from Ontario
Pollution and habitat destruction may have contributed to the apparent loss of Incurved Grizzled Moss from southern Ontario. However, the causes of its apparent rarity in the early 19th Century and its subsequent disappearance are not well understood.
Action we are taking
Extirpated species and their habitat are protected if the species are again found in Ontario.
Help Make Sure We Don't Lose More Endangered Species in Ontario
the Ministry of Natural Resources and Forestry tracks species at risk such as Incurved Grizzled Moss. You can use a handy online form to report your sightings to the Natural Heritage Information Centre (photographs with specific locations or mapping coordinates are always helpful)
report any illegal activity related to plants and wildlife to 1-877-TIPS-MNR (847-7667)
private land owners have an important role to play in species recovery. You may be eligible for stewardship programs that support the protection and recovery of species at risk and their habitats
volunteer with a local nature club or provincial park to participate in surveys or stewardship work focused on species at risk
Updated: August 12, 2021
Published: July 17, 2014