Official road map of Ontario
Learn about Ontario's official road map. Download a copy and find out how to order one.
Overview
The road map includes highways, roads, municipal borders, travel and tourist information and much more. For the first time, the 2020 edition included the names and locations of all Ontario First Nation communities.
You can order a paper copy of the Official Road Map of Ontario online or view and download PDFs including:
northern and southern Ontario maps
smaller printable sections
inset maps for selected municipalities that are shown on the paper map
Ontario's official road map was first produced in 1923 and new editions are released every two years.
Southern Ontario maps
Full southern Ontario map (PDF)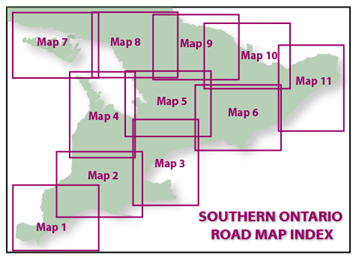 Map 1 (PDF) - Sarnia, London, Windsor
Map 2 (PDF) - Goderich, Guelph, Brantford, London
Map 3 (PDF) - Barrie, Oshawa, Niagara Falls
Map 4 (PDF) - Owen Sound, Collingwood, Goderich
Map 5 (PDF) - Collingwood, Huntsville, Peterborough
Map 6 (PDF) - Peterborough, Bancroft, Kingston
Map 7 (PDF) - Blind River, Elliot Lake, Manitoulin Island
Map 8 (PDF) - Sudbury, North Bay, Huntsville, Parry Sound
Map 9 (PDF) - North Bay, Petawawa, Algonquin Park, Huntsville
Map 10 (PDF) - Pembroke, Carleton Place, Bancroft
Map 11 (PDF) - Ottawa, Cornwall, Brockville
Southern Ontario inset maps
Barrie (PDF)
Brantford (PDF)
Cornwall (PDF)
Guelph (PDF)
Hamilton (PDF)
Kingston (PDF)
Kitchener (PDF)
London (PDF)
Niagara (PDF)
Ottawa (PDF)
Peterborough (PDF)
Sarnia (PDF)
Toronto (PDF)
Windsor (PDF)
Northern Ontario maps
Full northern Ontario map (PDF)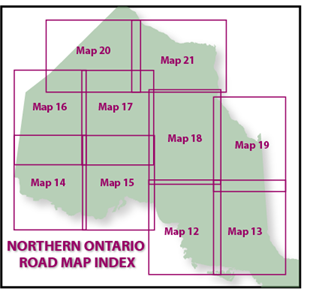 Map 12 (PDF) - Marathon, Kapuskasing, Wawa, Sault Ste. Marie, Elliot Lake
Map 13 (PDF) - Kapuskasing, Cochrane, Timmins, New Liskeard, Sudbury, North Bay
Map 14 (PDF) - Rainy River, Kenora, Red Lake, Sioux Lookout, Ignace, Atikokan
Map 15 (PDF) - Thunder Bay, Mishkeegogamang, Nakina, Longlac, Marathon, Nipigon
Map 16 (PDF) - Red Lake, Sachigo Lake, Sioux Lookout
Map 17 (PDF) - Bearskin Lake, Webequie, Eabametoong, Savant Lake, Armstrong
Map 18 (PDF) - Marten Falls, Attawapiskat, Longlac, Hearst
Map 19 (PDF) - Kashechewan, Fort Albany, Moosonee, Kapuskasing, Smooth Rock Falls
Map 20 (PDF) - Sandy Lake, Sachigo Lake, Wapekeka, Kasabonika Lake
Map 21 (PDF) - Fort Severn, Weenusk (Peawanuck)
Northern Ontario inset maps
Kenora (PDF)
North Bay (PDF)
Rainy River Area (PDF)
Sault Ste. Marie (PDF)
Sudbury (PDF)
Sudbury Area (PDF)
Thunder Bay (PDF)
Thunder Bay Area (PDF)
Timiskaming Area (PDF)
Timmins (PDF)
Map legend and distance calculator
Use the map legend (PDF) to understand the symbols on the road map.
Use the distance calculator (PDF) to find the approximate distances between select cities and town.
Updated: April 13, 2022
Published: March 24, 2022