Ontario's housing supply progress
Learn how Ontario has increased housing supply since our action plan in 2019.
Overview
Ontario's housing starts are continuing to trend in the right direction, despite major global and national economic challenges. Housing starts have hit record levels over the last two years, but unnecessary red tape is still slowing down construction and preventing more homes from being built at the pace Ontarians need and deserve.
Those delays are also increasing costs and adding to Ontario's housing affordability problem. For example:
A recent Scotiabank housing report found that Ontario is last in the country in the supply of homes per capita, and Canada has the lowest amount of housing per capita of any G7 country.
A 2022 Altus study (PDF) looked at the impact of delays on construction costs. It estimated that, for each residential unit in a high-density development, approval delays add between $2,600 to $3,300 per month in additional construction costs.
The Association of Municipalities of Ontario (PDF) highlighted historical provincial agency review timelines and backlogs at the Ontario Land Tribunal that slow housing development, while incomplete applications also cause delays.
Requirements to build new housing vary from one municipality to another, with anywhere from 17 to 28 different studies for a single project, and approvals timelines from 14 months to three years.
These added costs and delays drive up the cost of homes and are passed on to new home buyers and renters.
We've introduced a range of solutions — early steps and longer-term approaches — to increase Ontario's housing supply.
Improved housing starts
In 2022, housing starts surpassed 96,000 – the second-highest number since 1988 and 30% higher than the annual average for the past 20 years. Rental housing construction improved as well, with 2022 setting a new record of nearly 15,000 starts.
2022 Housing start increases in key markets
Chart 1: Housing starts in Ontario from 1990–2022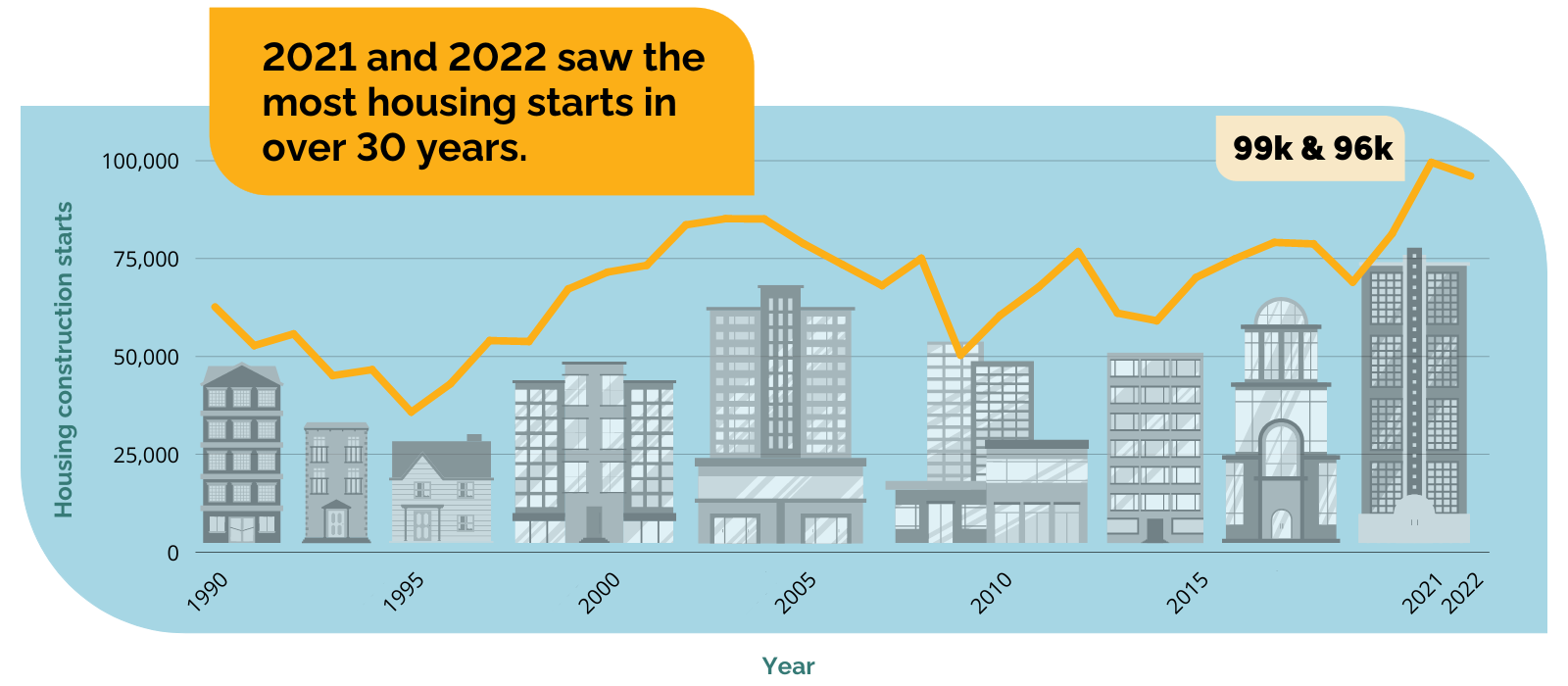 Chart 2: Rental housing starts in Ontario from 1990–2022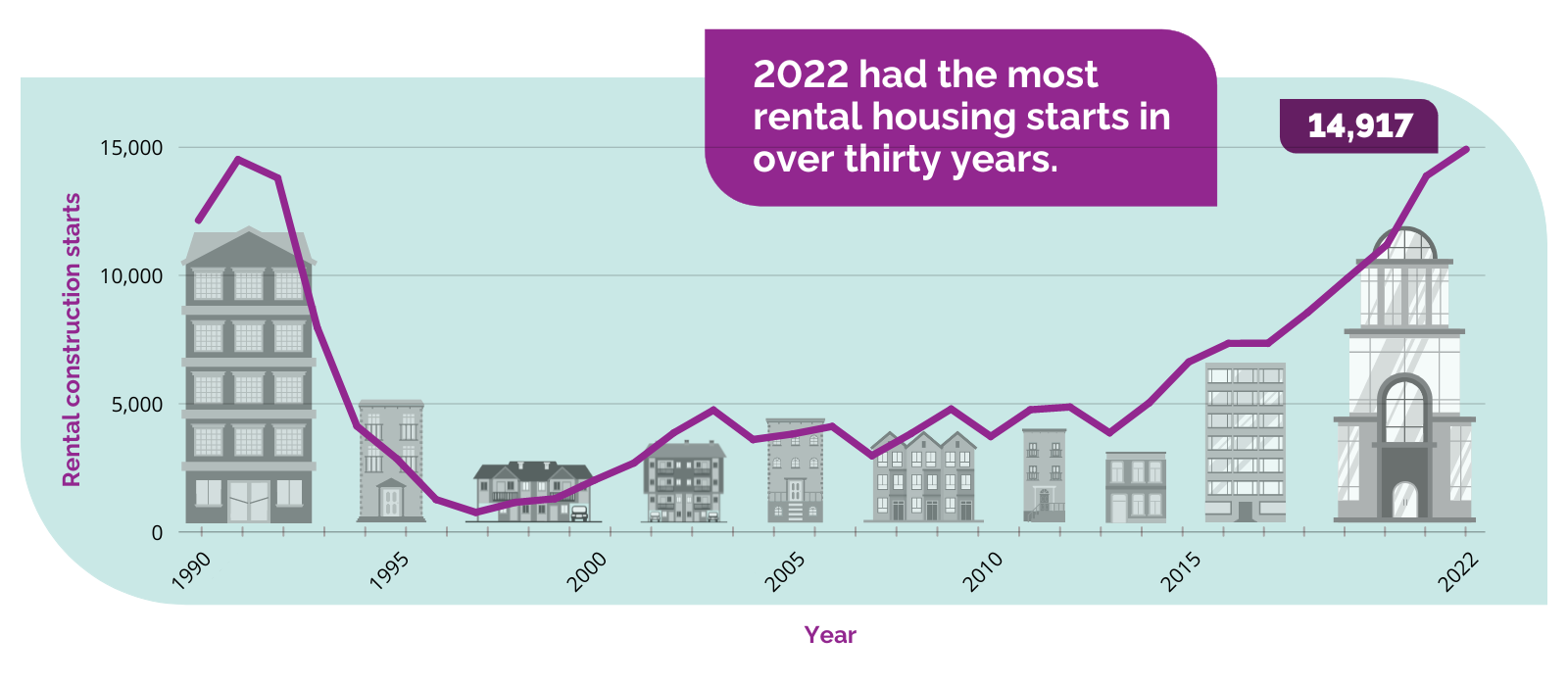 Protected homebuyers

To prioritize Ontario families and homebuyers, we increased the Non-Resident Speculation Tax rate from 20 to 25% effective October 25, 2022. This increase builds on previous actions including increasing the tax rate from 15 to 20% and expanding the tax beyond the Greater Golden Horseshoe Region to apply provincewide
Ontario's Non-Resident Speculation Tax applies to the purchase or acquisition of an interest in residential property located anywhere in Ontario by individuals who are:
not citizens or permanent residents of Canada
foreign corporations
taxable trustees
Increased consumer protection on new builds
We've strengthened consumer protection for purchasers of new homes, by:
holding new home builders and vendors to professional standards
increasing fines to address unethical behaviour
allowing the Home Construction Regulatory Authority to issue funds collected directly from builders to affected consumers
Reduced fees to build new homes

Many different things contribute to the price of a new home – from land values and interest rates to materials and labour costs. One little-known factor, however, is the variety of charges and fees levied by different government bodies. While a single fee may be small, the total impact can be significant.
According to a CD-Howe report, if development and zoning costs were cut in half, detached home prices would drop by nearly $75,000 in Toronto, and nearly $80,000 in York Region. We're freezing, discounting and reducing municipal development-related charges to spur new home construction and help address Ontario's housing supply crisis.
Municipalities levy three main charges on new development:
development charges (DCs), which fund infrastructure to support growth, such as water, wastewater, roads and libraries
parkland dedication fees, which can be money or land and are used to acquire park and recreation spaces
community benefits charges (CBCs), which can be used to fund services like community housing and parking. These charges are for costs resulting from new development that aren't covered by development charges or parkland fees
Reduced development charges
We've discounted development charges on purpose-built rental housing, with deeper discounts of up to 25% for family-sized units.
Development charge by-laws must be updated every 10 years. Extending that deadline from five years to 10 reduces administrative work for municipalities. New development charges must be phased-in over five years to provide more predictability for home builders.
Development charge amounts may be determined earlier in the development process and payments can be deferred for certain types of development. However, we have gone further and established a maximum interest rate that municipalities can charge on these DCs.
We have also implemented measures to slow the growth of DCs, such as limiting the eligible costs that can be recovered through development charges.
Reduced parkland requirements and community benefits charges
We've reduced alternative parkland requirements for higher density residential developments to reduce costs for new condominiums and apartment buildings. For example, municipalities can impose up to 15% of the value of the land for sites greater than 5 hectares and up to 10% of the value of the land for sites 5 hectares or less.
Municipalities are now required to develop a parks plan prior to passing any parkland dedication by-law. We've frozen the parkland requirement at the site plan/zoning application stage to make costs easier to predict, but developers must get their building permit within two years. This will help speed up construction while keeping costs down.
When someone builds "infill development" (constructing more housing units on a parcel of land with an existing residential building) the maximum community benefits charge and parkland levy will now be based on just the new units, rather than the entire parcel of land. This will reduce the costs of building new residential units in higher density communities.
As was the case with CBCs, we've required municipalities to use or allocate at least 60% of their parkland reserves and development charge reserve balances for critical services (such as roads, water and wastewater) at the start of each year, to build the infrastructure and parks communities need today.
Reduced administrative burden to speed up housing approvals
Accelerated timelines

We accelerated timelines to get housing built faster by reducing:
Official Plan Amendment timelines from 210 days to 120 days
zoning by-law amendment timelines from 150 days to 90 days
plan of subdivision timelines from 180 days to 120 days
We also introduced a new:
90-day timeline for issuing a notice of intention to designate
120-day timeline for passing a designation by-law to help conserve heritage properties while allowing for compatible development
We are encouraging dispute resolution by ensuring consistency in how planning policies are implemented to avoid further delays from appeals, while continuing to support thoughtfully designed and livable communities by:
extending the timeline for municipalities to review site plan applications before appeals can be launched from 30 days to 60 days
enabling the minister to pause the 120-day decision-making clock that determines when certain Official Plans or Official Plan Amendments that are before the minister can be appealed for a non-decision
We've removed site plan control requirements for residential projects with up to 10 residential units (other than land lease community developments). This will reduce the number of approvals in the pipeline and the time needed to approve smaller residential developments, while building permits and building/fire code requirements continue to protect public safety.
For larger projects, we are speeding up approvals by focusing site plan reviews on health and safety issues, like flood-plain management.
We invested up to $350 million to help municipalities modernize services and achieve faster turnarounds, through three programs:
Faster housing starts
We are helping to get homes built faster to address the housing supply crisis. For example:
We now allow municipal councils to delegate planning decision-making authority for minor zoning by-law amendments to committees or staff, helping shorten approval timelines and get homes built faster.
We require council to delegate site plan control decisions to municipal staff, typically professional planners who have the professional expertise to evaluate the issues, understand the technical planning matters and approve the drawings and plans in a timely manner.
We are creating new archaeology standards for rural historic farmstead sites to reduce complex and expensive excavations.
We are using Minister's Zoning Orders (MZOs) to kick-start the planning approvals process by getting the zoning in place for critical local projects, including housing, long-term care homes, economic development and health care facilities. MZOs have existed in the Planning Act since 1946.
They are also:
accelerating over 115,000 new housing units, including 650 units of supportive housing
creating over 150,000 jobs
creating over 4,250 new long-term care beds
Strong mayor powers
The Strong Mayors, Building Homes Act, 2022, the Better Municipal Government Act, 2022 and associated regulations provide the mayors of Toronto and Ottawa with more authority to move forward on shared provincial-municipal priorities, such as:
building 1.5 million new homes by 2031
building and maintaining infrastructure to support housing, including transit, roads, utilities, and servicing
These changes help strengthen mayors' ability to reduce timelines for development, standardize processes and address local barriers to increasing the supply of housing.
Addressed backlog at the Ontario Land Tribunal
Additional funding for more adjudicators and staff at the Ontario Land Tribunal (OLT), has helped reduce the backlog of Ontario Municipal Board legacy cases by more than 80%, from 1,200 cases in June 2019 to 230 in February 2023.
Chart 3: Ontario Municipal Board legacy case backlog reduced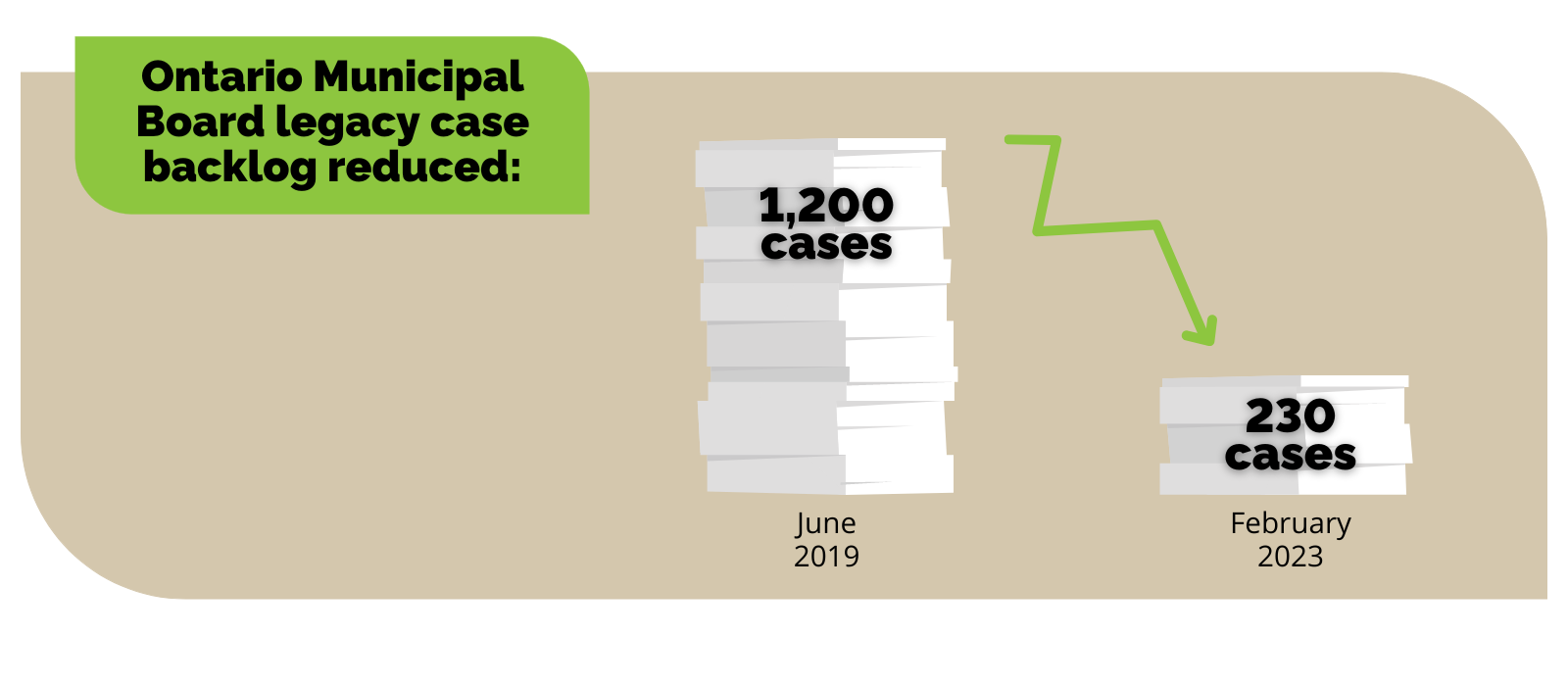 An investment of $14.7 million over three years starting in April 2022 is helping the OLT address its caseload. The additional funding will enable the tribunals to get more resources, including adjudicators and staff, so land use planning and tenant and landlord disputes can be resolved faster. Funding is also supporting the OLT to expand technology to further enhance efficiency and e-services.
Building on this additional funding over three years, Ontario further invested $2.5 million for more staff resources at the OLT in Fall 2022 to support faster dispute resolution and to help reduce the overall caseload.
We've enabled the Minister of Municipal Affairs and Housing, when making decisions on official plans and amendments, to refer all or parts of an Official Plan matter to the OLT for a recommendation, or refer the entire matter to the OLT to make a decision as an impartial adjudicator.
Encouraged innovation
Embracing innovation in housing keeps Ontario's eye firmly on the future, for example, updating the Building Code to:
make it easier to relocate tiny homes that are constructed in one municipality and shipped to the owner's property in another municipality
allow 12-storey mass timber buildings
streamline modular multi-unit residential building approvals
create safe ways to allow residents and commercial tenants of the lower floors of super-tall buildings under construction to move into their units earlier, so they can find a home and open the doors of their business sooner
We also developed guides on a variety of complex subjects to help homeowners and homebuyers understand diverse and creative housing options:
Gentle density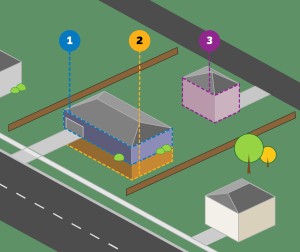 Gentle density refers to increasing the number of units in existing residential areas.
We've increased gentle density by expanding what's allowed to be built . Up to three residential units are now permitted on most residential lots , without needing a by-law amendment. For example:
a main residence
a basement apartment
a garden or laneway suite
This creates a broader mix of rental housing and helps homeowners to pay their mortgage or accommodate extended family.
The new units are also exempt from development charges and parkland requirements, and municipalities can't set minimum unit sizes or require more than one parking space per unit.
Identified more land for housing
We've streamlined conservation authorities' processes to sell or lease lands they own, including those that may be suitable for housing. We're also requiring conservation authorities to identify any authority-owned land in their inventory that could support housing development and help get housing built sooner.
We've turned unused provincial lands into affordable homes, like the Homes for Heroes project in Kingston for homeless veterans. We've made it easier to build smaller, more affordable types of homes (for example, laneway houses, basement apartments and tiny homes) often on existing residential properties.
We've helped home builders to estimate development charges earlier in the planning process, while ensuring municipalities can still provide the infrastructure needed to support new homes, and created a community benefits charge to help municipalities fund infrastructure for developments over five storeys and/or ten units.
We're also encouraging the redevelopment of underutilized commercial and industrial properties into housing through an enhancement to the Brownfields Financial Tax Incentive Program.
Balanced transit and parks
Building complete communities requires careful planning for not just housing, but employment uses, infrastructure and transit. We are implementing our Transit-Oriented Communities Program, which provides real opportunities to build vibrant, complete, mixed-use communities that are at or around transit stations.
For transit-oriented communities, we've set a maximum for the portion of a home builder's development land, or cash-in-lieu, that a municipality can use for parks. These changes:
balance the priority for new housing close to transit
help more Ontarians be less dependent on cars
continue to create more parks
Once the minister approves the key development policies for major transit hubs, municipalities must update their zoning by-laws within one year to help get shovels in the ground faster.
Growth planning
A Place To Grow and the Provincial Policy Statement are part of a complex system of overlapping land use planning policy instruments that can be difficult to navigate and implement. That's why we consulted on how to create a streamlined and province-wide land use planning policy framework enabling municipalities to approve housing faster and increase housing supply. This framework will continue to protect the environment, prime agricultural areas and public health and safety.
We will continue to take a balanced approach that protects the environment and supports smart growth to create much-needed housing and jobs.
Natural hazards
Conservation authorities develop and deliver local, watershed-based resource management programs on behalf of the province and municipalities. They also review development proposals in areas prone to flooding and erosion along rivers and lakes and within wetlands. We've made sure that conservation authorities' involvement in planning and development is focused on this important role and not duplicating other environmental reviews.
Protected heritage while meeting housing needs
We've balanced preserving Ontario's history and heritage with the need to build more homes. We're doing so by renewing and updating Ontario's heritage policies to strengthen the criteria for heritage designation and provide clearer and more transparent guidelines.
This promotes sustainable development that conserves and commemorates key places with heritage significance. It also gives municipalities, communities and project partners the certainty, clarity and flexibility they need to move forward with priority projects, such as housing, and build strong, vibrant and thriving communities across the province.
Supported tenants and landlords

Our Protecting Tenants and Strengthening Community Housing Act discouraged bad faith "renovictions" by raising the maximum fines to $50,000 for an individual and $250,000 for a corporation.
When tenants are evicted for causes beyond their control – such as the landlord renovating or using the unit themselves – most landlords must offer compensation. We've extended this requirement to small landlords (buildings with one to four units) who evict a tenant to renovate or repair the unit, and also to landlords who evict a tenant on behalf of a home buyer who wants to use the rented unit themselves. In these cases, landlords must pay the tenant one month's rent.
We also required landlords who want to evict a tenant to use a unit themselves, to tell the Landlord and Tenant Board (LTB) if they have done this before, which helps adjudicators look for patterns and identify landlords who may be breaking the law.
In April 2022, the Ontario government announced an investment of $4.5 million over three years to help reduce the longstanding backlogs and accelerate decisions at the LTB. This funding will enable the LTB to hire new staff and appoint additional adjudicators. In November 2022, the LTB received an additional $1.4 million to help resolve cases faster and improve customer service.
Created more affordable housing

Supply is not just a problem for market housing, there's also a shortage of affordable housing supply.
That's why we exempted non-profit housing from development charges and parkland fees and removed development charges for second suites in new builds like basement apartments.
Through our Community Housing Renewal Strategy and response to COVID-19, we invested nearly $4.4 billion over the past three years to grow and enhance community and supportive housing and address homelessness for vulnerable Ontarians. This includes over $1.2 billion to service managers and Indigenous program administrators through the Social Services Relief Fund to improve housing and homeless shelter solutions and support Ontario's most vulnerable. This is one of the largest investments in housing and homelessness supports the province has ever made.
The Homelessness Prevention Program streamlines and simplifies access to provincial housing and homelessness supports, and provides nearly $464 million each year.
Strengthened rural and northern communities

In 2021, two years after More Homes, More Choice was implemented, small and rural municipalities saw triple the number of housing starts compared with 2020 — the highest level in over three decades.
Here are some of the changes that helped make that possible:
We've made it easier to transfer parcels of land, by making Ontario's subdivision control system clearer for the real estate sector, which supports new home building in rural areas. The Planning Act sets out how land may be divided into parcels. We've addressed a number of long-standing issues with technical and policy changes to reduce red tape, simplify subdivision control and save owners and applicants time and money.
Changes to the Provincial Policy Statement also gave northern and rural municipalities more flexibility to support appropriate development in areas without full municipal sewer/water services.
Using more wood-based modular and pre-fabricated housing construction leverages Ontario's manufacturing industry and also supports the forest sector and the rural and Indigenous communities who rely on it for their livelihood. By investing in modern wood-based industrialized construction, like Element5's facility in St Thomas, Ontario is investing in our local manufacturing sector, using our own locally sourced sustainable natural resources and encouraging the use of low-carbon home building materials to aid in the fight against climate change.
We have invested over $36 million in 24 Skills Development Fund projects in northern communities. These skilled trade projects aim to support more than 3,000 workers. Across all industries and sectors, we have funded over 50 projects which aimed to serve over 5,700 participants in northern Ontario
Addressed skilled labour shortages

One of the reasons behind the housing supply shortage is the difficulty finding skilled tradespeople — the electricians, plumbers and carpenters who build much-needed homes. Our Skilled Trades Strategy simplifies Ontario's skilled trades and apprenticeship system and encourages employers to participate. It also removes barriers for newcomers pursuing their skilled trade licences, such as the requirement for Canadian work experience.
The Skills Development Fund has trained over tens of thousands of people for work in the trades. This includes plans to give 265 jobseekers free training and work experience in residential construction through a partnership project with the Ontario Home Builders' Association. These measures are helping to increase the number of qualified skilled tradespeople, which helps to speed up new home construction.
Updated: March 28, 2023
Published: March 22, 2022