Ontario's local food report, 2018-2019 edition
Learn about the people, businesses and organizations successfully working to strengthen Ontario's local food economy
Minister's message
Local food is the heart of Ontario's agri-food industry. It draws us together; whether it's to share a meal, grow a business or collaborate on an innovation, local food feeds our communities as much as it feeds our families.
This Local Food Report showcases the hardworking people who make up Ontario's local food economy from farm to fork.
Ontario's local food value chain includes farmers, processors, distributors, retailers, restaurants and other food service organizations working to provide quality products to Ontarians.
The government continues to demonstrate our commitment to growing a resilient, innovative and thriving agri-food value chain. We believe that by reducing unnecessary regulatory burdens, creating opportunities for businesses and protecting what matters most, Ontario's local food industry will flourish.
We want to ensure Ontario's local food industry has a place to grow, and that's why our government established the third goal of the Local Food Act, 2013, which opens the door for local food across the broader public sector. My ministry continues to build tools and provide resources to help businesses grow local food opportunities across the public sector.
Ontario's local food system is an important part of the province's strong economy. When we know where our food comes from and support those who grow, harvest and make it, we strengthen our communities, support a sustainable environment, create jobs and boost the economy.
For more than 40 years, Foodland Ontario has helped consumers identify, choose and buy all the good things that grow in Ontario. This year, we've also invited consumers to have a role in recognizing the outstanding work retailers do to showcase the fresh and delicious food grown here. We can all have a role in strengthening our local food industry.
There's room for everyone at Ontario's local food table - pull up a chair.
Ernie Hardeman,
Minister of Agriculture, Food and Rural Affairs
---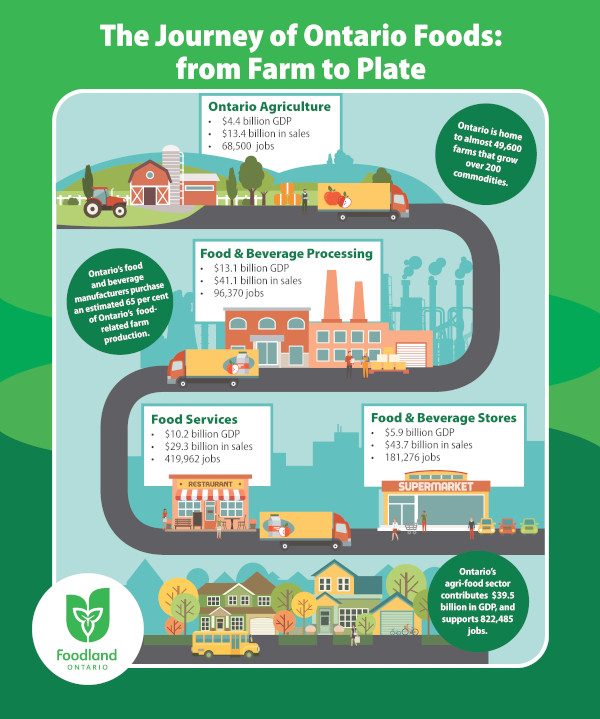 The 2018-2019 Local Food report demonstrates the government's commitment to growing Ontario's local food industry. By reducing red tape and equipping local food businesses with strong business tools, Ontario's agri-food value chain will prosper. These are some of the many faces of our local food industry who are investing, growing and celebrating its opportunities.
Chartwells, Buy Local program uses Foodland Ontario logo to communicate local food choices to students across the province
Chartwells, Canada's largest educational foodservice provider and a division of Compass Group Canada, launched a new Buy Local program that allows their chefs to invite local food vendors in their community to become an approved vendor through an online onboarding process. The Buy Local program is part of the Food with Purpose pillar of Chartwells' new vision, Thinking Ahead Giving Back. Working with over 500 partner schools across Canada, Thinking Ahead Giving Back is Chartwells' commitment to be a collaborative thought partner to address the values and needs of clients and students to deliver a student-first campus experience.
Participating vendors of the Buy Local program must still meet Chartwells' stringent food safety standards. Once approved, chefs can begin sourcing directly from these local food vendors.
The program does not replace Chartwells current procurement methods, but it creates more flexibility by inviting local food vendors to go through a simplified and efficient approval process.
Chartwells is also making communication tools, such as posters or tent cards, available to colleges, universities and schools to promote local food on their campuses. In Ontario, the Foodland Ontario logo will be added to these communication tools to help highlight local ingredients and farmers. The opportunity of the Buy Local program to positively impact local food spend by institutions is one of the reasons why Foodland Ontario is partnering with Chartwells.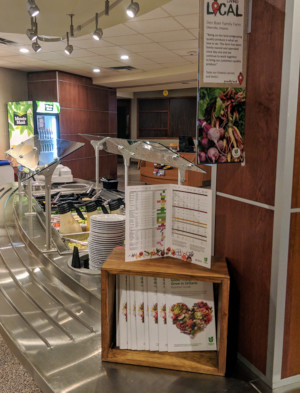 There is a growing demand by students at our partner schools for more locally-sourced ingredients and menu concepts. The Buy Local program enables us to address this need while also contributing to the overall vitality of the local communities in which we operate. We are thrilled to have the support of Foodland Ontario to be able to showcase and contribute to Ontario's food sector. Eli Browne, Director of Sustainability and Culinary Innovation at Chartwells Canada
Promoting local food literacy
The Local Food Act, 2013, established three goals to increase knowledge about local food. To encourage food literacy, the goals are to increase the number of Ontarians who:
Know what local foods are available.
Know how and where to obtain local foods.
Prepare local food meals for family and friends and make local food more available through food service providers.
Whether enjoying a family meal made from fresh produce purchased from a local farmers' market or grabbing a quick bite with friends at a restaurant, knowing where your food comes from is an important part of life for all Ontarians.
North Bay Farmers' Market uses MyPick® certification to build food literacy with Market shoppers
The North Bay Farmers' Market's mission goes beyond just selling food to people, but also creates reliable access to fresh and healthy food, supports wellness and agricultural education. Since the market began in 2001, it has grown to be one of the busiest markets in northern Ontario averaging 100 vendors per year, and they have expanded to be more year-round with both a summer and winter market.
The market has taken a strong leadership positions with respect to transparency, authenticity, and ensuring a truly local market with local economic impact. Farmer's Markets Ontario's MyPick® verification program provides assurance to consumers that the vendor they are buying from is selling what they have grown and made on their local farm. Beginning in 2012, all vendors at the North Bay Farmers' Markets must live within 100 km and all producers must be MyPick® verified. It is the only market in northern Ontario that requires their members to be MyPick® verified. This helps to build public trust with their customers, so they can be confident in knowing where their food comes from and that it is from a local farmer.
In February 2019, the North Bay Farmers' Market won the inaugural Farmers' Markets Ontario Award of Excellence, Market of the Year for the 2018 season.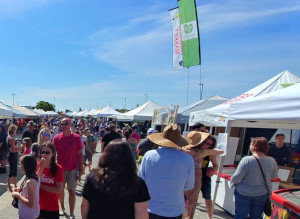 Our 100 km and MyPick® policies have helped to grow our market into the truly local destination that it is today. We are proud that the North Bay Farmers' Market has developed a strong relationship with the community and has helped to strengthen the grassroots agriculture industry in Northern Ontario.

Wayne Chalmers, Spring Hill Farms, Vendor and Vice Chair at North Bay Farmers' Market
Foodland Ontario Retailer Awards - giving shoppers a say with new Consumers' Choice contests
The Ontario government supports programs and works with partners to improve local food literacy among Ontarians.
The annual Foodland Ontario Retailer Awards is the produce industry's premier competition for excellence in grocery store display and promotion in support of Ontario foods. The awards recognize outstanding retailer support for Ontario-grown foods.
Retailers enter six seasonal display contests that run from April to November. In 2018, over 4,250 entries were submitted with almost 6,000 photos of compelling displays featuring fresh Ontario produce.
For the first time in more than 30 years, consumers' can now vote in the "Consumers' Choice" contest for the best retail displays of Ontario asparagus, berries, tender fruit, apples and fall harvest vegetables contests.
By following Foodland Ontario on Instagram and Facebook, consumers vote by "liking" their favourite of the top three retail display photos.
By opening the door for consumers to have their say in which grocery store created the most exciting display of fresh Ontario fruits and vegetables, the government is engaging Ontarians who want to take a more active role in the food they buy, prepare and share with their families.
Local Food Champions - Recognizing community champions who put local food first
Another exciting initiative that the government has introduced to motivate and celebrate the commitment to local food is the Local Food Champions recognition program.
A Local Food Community Champion can be an individual, organization or business who has demonstrated leadership in putting local food first on the tables of the people in their community. There is no shortage of Local Food Community Champions all around us that have uniquely contributed to the growth of the local food sector!
Members of Provincial Parliament (MPPs) all around the province are being provided with the opportunity to recognize local food leaders in their communities through the new Local Food Champion initiative. Community members or businesses that are identified as leaders will be awarded with a Local Food Champion Certificate and honoured in their communities through local media, such as newspapers or social media. Celebrations will be encouraged during Local Food Week in June or during Ontario Agriculture Week in October.
Passion project grows into family business by putting customer first in local food business
Starting as a summer project to raise funds for university, Bre's Fresh Market has grown into a 'one-stop-shop' for local produce, bakery treats, meats, cheeses and more. Their mission is to sell all the best local foods from Oxford, Elgin, and Norfolk county under one roof.
In February 2019, Bre's Fresh Market was recognized by the Ontario Farm Fresh Marketing Association with the annual Foodland Merchandising Award for excellence in the display and promotion of Ontario foods and support of Foodland Ontario. Bre's Fresh Market stands out not only because of their creativity, but because of how they exemplify what their market is all about - 'Your Local Food Connection'.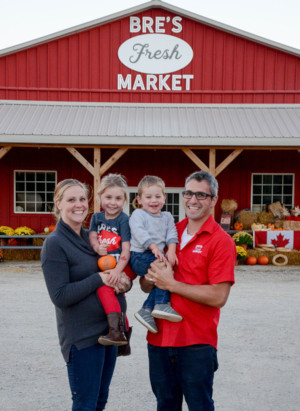 We are in such a rich agricultural community yet feeding your family local farm fresh produce is a challenge. We do what we do to make fresh local produce from our farm and neighbouring farms as readily available to our customers as possible.

Breann & Kyle Gillespie
Opening access to local food
Increasing awareness of local food is not enough to expand consumption of local food. Local food choices must be made available to Ontarians where they shop, dine and go to school.
The Ontario government is protecting what matters to Ontarians by helping to make locally grown, harvested and produced food and beverages more readily available to all Ontarians throughout the province, whether it is directly from a farm, a farmers' market, grocery store, school cafeteria or hospital foodservices.
The Local Food Act, 2013, established three aspirational goals to help increase access to local food, including:
Goal 1: Increase opportunities for all Ontarians to choose local food.
Goal 2: Increase the variety of local food offerings to celebrate the diversity of Ontario and its foods.
Goal 3: Increase collaborations and strengthen partnerships among producers, communities, and the public and private sectors to enhance local food availability.
An important part of increasing access to local food means reducing regulatory burdens to lower business operating costs for small to medium-sized agri-food businesses in Ontario.
The Ministry of Agriculture, Food and Rural Affairs is targeting unduly costly and burdensome regulations within the agri-food sector while maintaining rules that help keep Ontarians safe and healthy.
As part of this effort, the government is modernizing Ontario's financial protection programs for farm businesses and identifying ways to streamline the licensing and certification processes for more than 20 programs that the ministry delivers.
In addition, as part of the Restoring Ontario's Competitiveness Act, 2018, the ministry has proposed changes to burdensome regulations under the Food Safety and Quality Act, such as moving to a one-time licensing requirement for meat plants while maintaining all necessary food safety requirements.
A great example of how reducing regulatory burdens has made it simpler for agri-food companies to do business in Ontario is Mike McKenzie and his Seed to Sausage local food business.
Healthy local food businesses flourish when barriers are removed
Mike McKenzie is the founder of Seed to Sausage, a company in Eastern Ontario that makes hand-crafted meats ranging from fermented salami, pancetta and guanciale, to simple sausages and an array of deli style and smoked meats. Everything is handmade and done in small batches to maintain high quality standards.
It all started as a hobby - making do-it-yourself meat, but Mike found there were few options for artisanal cured meats here in Ontario. Mike decided it was time to start a small-business of selling premium cured meats.
Seed to Sausage has seen significant business growth. Eight years ago, they began as a small provincially inspected meat processing facility in Tichborne selling artisanal cured and processed meat products throughout Eastern Ontario and the City of Ottawa. In 2014, they expanded into a 500 square-foot storefront in downtown Ottawa and more recently into two very successful markets in Mississauga and Newmarket. Their products have even been featured at Rideau Hall.
Seed to Sausage is now planning to construct a federally inspected meat processing facility to help open even more markets in Ontario and beyond the province's borders.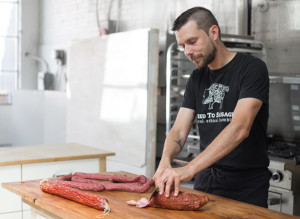 When I first started Seed to Sausage it was because I was unable to find any products available like the ones I was making at home. Not only local and with fewer additives but mostly from a flavor and quality perspective. I strongly believe Seed to Sausages success is due to its commitment to putting flavor and quality first when crafting its products. In the future I would like to focus on creating healthy foods for my family. Using functional ingredients, I want to create products that can not only improve our health but also ensure they are packed with micro nutrients such as zinc, magnanimous or probiotics and improve things like cognitive function. I want to create healthy food to fuel our minds as well as our bodies. And it's going to taste great!

Mike McKenzie, Founder, Seed to Sausage
By making local food more identifiable through a range of distribution channels, the Ontario government is making sure more Ontarians across the province can access made-in-Ontario meats, dairy, baked goods, fruits and vegetables.
Foodland Ontario's promotion and marketing efforts empower consumers to identify and ask for Ontario foods when shopping at grocery stores, farmers' markets and on-farm markets.
The program's consumer research demonstrates that the in-store environment is a critical influencer of purchase decisions. For example, 61% of decisions to buy fresh produce are made at the point of purchase.
Foodland Ontario's retail and client services efforts increase the visibility of the Foodland Ontario logo at shelf and assist consumers to identify and choose the Ontario option when shopping.
In the past five years, there has been an average increase of 222 logo agreements per year. Currently, there are more than 1,550 logo agreements with producers, retailers and food services. Eight out of every 10 consumers associate the logo with fresh Ontario food.
Sobeys regional approach supports communities by ensuring shoppers get more locally grown and made food
The Ministry of Agriculture, Food and Rural Affairs' Vendor Engagement Program started in 2011 and now connects over 2,500 food and beverage processers to retail and food service operators across Ontario. Partnerships to date include Longos, Loblaws, Metro, Whole Foods and more recently, Sobeys.
The vendor program includes business-to-business meetings, table tops presentations, in-market or tradeshow programming and educational "how to sell" seminars. Almost 830 pre-vetted and selected vendor business-to-business meetings have taken place allowing vendors to showcase their Ontario products, while helping retailers to source local products. It is estimated that over $70 million of new incremental sales for Ontario has been created since the program launched.
Sobeys Ontario has made it possible for smaller-to-medium sized vendors to supply stores on a regional basis. Sobeys Ontario has been working with the ministry to host three events to further their local sourcing program. The first event was held in November 2018 and will produce 14 new Ontario vendors from primary producers to processors supplying Sobeys stores with approximately 50-75 new Ontario listings. Sobeys will continue to review accounts with each new vendor. If products demonstrate strong sales, then they could get listed with even more stores, including at a provincial level.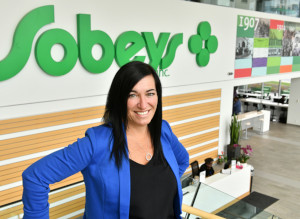 At Sobeys, we believe in strengthening the communities we operate in by supporting local businesses. No local supplier is too small for us to consider and at Sobeys we take great pride in helping local businesses grow to a larger scale. Working with the Vendor Engagement program provides opportunities to bring innovative, Canadian-made local products to our customers - and is a priority for our business

Sheri Evans, Local Development Manager, Ontario Field Merchandising, Sobeys
Opening the door for local food in the broader public sector
The Ontario government is committed to reducing red tape so local food businesses across the province can flourish. Buying and supporting local food creates jobs and economic growth in communities across the province.
In March of 2018, the government of Ontario established the third aspirational goal for the Local Food Act, 2013.
Goal: Removing red tape barriers and opening the door for local food in the broader public sector will make it easier for organizations like colleges, universities, hospitals and municipalities to procure local food.
To support the Broader Public Sector's use of more local food through procurement processes, the government has developed a suite of best practice resources including videos and tools like case studies and tip sheets and a map to connect businesses to food hubs across Ontario.
Many institutions are already significantly increasing their use of local food by implementing best practices to reduce barriers to local food procurement. These are some of their stories.
MEALsource opens the door for local food company to develop new protein rich meat for hospital patients
MEALsource is a non-profit group purchasing organization that contracts food suppliers and distributors on behalf of 30 health care members that are part of the St. Joseph's Health System. MEALsource conducted an origin audit of their local food purchases and identified protein as one of five categories where they could find more local farmers and processors.
In 2013, MEALsource released a protein request for proposal and then worked to educate farmers and processors about the contract and the process to submit a bid. However, this time around MEALsource updated their evaluation criteria to focus on cost per gram of protein rather than cost per serving. This redefined how MEALsource's health care members evaluate value in terms of protein density that better met the needs of their patients versus just the lowest cost per unit.
VG Meats is a family-run Ontario meat producer-processor in Simcoe. Since 1970, they have been serving customers through their own stores and major retailers. When MEALsource updated their evaluation criteria to measure the food characteristics they value most highly, VG Meats surpassed the incumbent and all other vendors that quoted because of their ability to develop higher quality products, such as more protein-dense serving sizes, for the healthcare industry.
Together, MEALsource and VG Meats were able to demonstrate the potential of how to get the best value out of public procurement.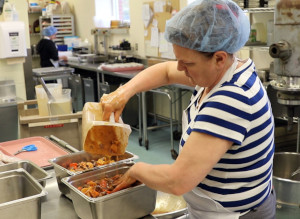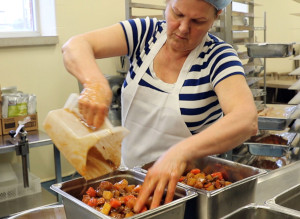 As anchor institutions within the communities they serve, health care facilities are responsible to ensure that not only are they getting best value with tax dollars, but that the process they use to make decisions is open and transparent to all potential vendors. MEALsource understands this mission and works to assist its Members in getting best value through community education and engagement to enhance both the local food system and the patient experience

Wendy Smith, Contract Specialist at MEALsource with the St. Joseph's Health System, Group Purchasing Organization
Broader Public Sector Champions recognized for demonstrating best practices in local food procurement
Conducting a food origin audit is an effective tool for increasing the purchasing of local food. By identifying the origins of food and beverages served in an institution, the audit can be used to establish a baseline of local food purchases, assist in setting goals for local food procurement and in the tracking of and reporting on progress made.
The province recently launched a new Broader Public Sector Recognition Program to award institutions who voluntarily track and report back to the Ministry of Agriculture, Food and Rural Affairs on their local food purchasing targets. Each April-May, institutions will be encouraged to complete an online survey submitting their baseline local food purchase data and the local food purchasing target for that year. The following February-March, each participating institution will be asked to complete a follow-up online survey to submit their final local food purchasing data for that year.
Participating institutions will receive a letter from the Minister of Agriculture, Food and Rural Affairs accompanied by a logo to celebrate their efforts during each annual Local Food Week in June.
Local Food Value Chain means more local food is available to Halton Healthcare patients
Halton Healthcare is a healthcare organization comprised of three community hospitals - Georgetown Hospital, Milton District Hospital and Oakville-Trafalgar Memorial Hospital. Annually serving over 700,000 inpatient meals through a variety of personalized meal delivery models including the award-winning Call to Order, Room Service, Dining Room Service and Hostess Meal Delivery.
Their mission is to partner with their communities to provide excellent nutritional care and food services and their vision is to empower their team to be leaders in providing nutritional care and dining experience guided by evidence-based standards, valuing diversity, locally sourced foods and fiscal responsibility.
For some time, the Food Services team led by Marianne Katusin, Manager, Food Services at the Oakville Trafalgar Memorial Hospital have been working to create a "farm to table" approach with patient meals. They have developed new recipes and menus that deliver value and taste to patients, while carefully managing the financial resources available to support food services.
The team worked with their Distributor partner - Gordon Food Service - to ensure sustainability of local items on their patient menus. The knowledge transfer from a leader in the distribution sector helped Halton Healthcare find creative and innovative solutions to enhance the local food offerings to our patients. With a better understanding of what was possible, Marianne worked with her leadership team to create a Local Food Procurement Statement to help actualize goals to purchase more and train staff on local foods.
Marianne worked on developing key partnerships with manufacturers and vendors that sell local products. In addition, the team reviewed the opportunity to prepare more in-house recipes using local ingredients. Key partners now include Martin's Family Fruit Farm and Cohn Farm. Fresh Ontario fruits, vegetables and raw proteins are now purchased to support the in-house production of soups, entrees and casseroles. Marianne also partnered with Stemmler Meats to develop local protein products that meet the nutritional, quality, pricing and food safety standards required in healthcare institutions.
Halton Healthcare has now increased their local purchasing to 30%. Patients have reported their excitement at seeing Ontario farmer information accompanying their meals and report high satisfaction when Ontario ingredients are highlighted on the patient menus.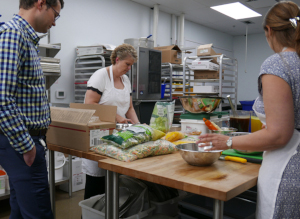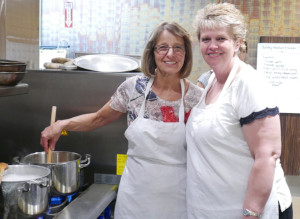 At Halton Healthcare we believe that making good food choices is an important part of health and wellness. In our effort to achieve our mission and vision, we have demonstrated that we are local food champions. We continue to do this through our innovation in providing new meal delivery models and by collaborating with our network of Ontario food manufacturers and producers to develop nutritious food options for hospital menus. Increasing the awareness and knowledge of local food with our patients will strengthen the value chain relationship amongst the local food industry, our community and our industry partners

Marianne Katusin, Interim Director, Clinical Nutrition and Food Services, Halton Healthcare
Making Ontario's local food industry open for business
In the coming year, the government will continue to increase opportunities for public engagement to support agriculture, local food and rural development. It is important to provide opportunities for Ontarians to share their voice and engage in meaningful dialogue to help identify issues, address challenges and implement solutions to ensure a viable agri-food industry.
The government is committed to encouraging positive agri-food and rural development outcomes by making efforts to foster and stimulate economic growth through education, outreach, tools and resources, agri-food events, collaborations and other activities. For example, the Ministry of Agriculture, Food and Rural Affairs has created an interactive map of food hubs (aggregators) across Ontario as a reference for those looking to connect with small to medium-sized businesses that aggregate food for commercial purposes or community programs.
Across Ontario, many organizations are working on innovative ways to bolster the province's agri-food sector and rural communities. To support growth opportunities for local food businesses across the province, the government is developing resources, eliminating barriers and opening opportunities that will help strengthen Ontario's local food industry.
Local food matters to Ontarians and that's why the government continues to create a favorable climate for local food businesses and entrepreneurs to grow and expand, create jobs, and bring more local food to the plates of Ontarians.
---
Text description of image:
This is a pictographic map that provides an overview of the Journey of Ontario Food: from Farm to Plate. The pictographic map is made up of visuals and statistics that showcase the size an economic significance of the agri-food sector to Ontario's economy.
The journey begins at the farm represented by visuals of a barn, tractor and a truck. At this stop, there is a green bubble that explains that Ontario is home to almost 49,600 farms that grow over 200 commodities. There is also a white box that explains that Ontario agriculture contributes $4.4 billion in GDP, represents $13.4 billion in sales and supports 68,500 jobs.
On the map, we follow the truck's journey from the farm to a visual of a food and beverage manufacturing facility. At this stop, there is a second green bubble that explains that Ontario's food and beverage manufacturers purchase an estimated 65% of Ontario's food related farm production. There is also a second white box that explains Ontario's food and beverage processing sector contributes $13.1 billion in GDP, representing $41.1 billion in sales and supports 96,370 jobs.
On the map, we follow the truck's journey to visuals of a restaurant and a supermarket to signify two ways consumers can access local food products grown on the farm or processed at a food and beverage manufacturing facility. The restaurant represents the food services sector. This stop is accompanied by a third white box that explains that the food services contributes $10.2 billion in GDP, representing $29.3 billion in sales and supports 419,962 jobs. The supermarket represents food and beverage stores. This stop is accompanied by a fourth white box that explains that food and beverage stores contribute $5.9 billion in GDP, representing 181,276 jobs.
On the map, we now make the journey from the supermarket to the home. This is the final stop on the journey - from the farm to the consumers plate. This stop features a picture of the Foodland Ontario logo. Ontarians are encouraged to look for the Foodland Ontario logo to help identify Ontario food products when shopping at a supermarket, farmers' market and on-farm market or when dining out at a restaurant. At this final stop, there is a fifth green bubble that explains that Ontario's agri-food sector contributes $39.5 billion in GDP, and supports 822,485 jobs.
Updated: December 15, 2021
Published: November 12, 2020