Small-flowered Lipocarpha
Scientific name: Cyperus subsquarrosus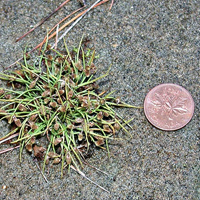 Cover photo credit: Wasyl Bakowsky
Status
Threatened
Threatened means the species lives in the wild in Ontario, is not endangered, but is likely to become endangered if steps are not taken to address factors threatening it.
Date added to the Species at Risk in Ontario list
The Small-flowered Lipocarpha was already assessed as threatened when the Endangered Species Act took effect in 2008.
On January 26, 2022, the scientific name of this species was updated on the Species at Risk in Ontario list from Lipocarpha micrantha to Cyperus subsquarrosus to be consistent with recent taxonomic changes. This name change does not change the protections afforded to the species under the Endangered Species Act, 2007 (ESA) or the applicability of any policies, permits and agreements, guidance documents or best management practices that may have been published or issued by the Government of Ontario in respect of the species.
What it looks like
The Small-flowered Lipocarpha is a tiny annual sedge that grows in dense clumps. Its curved stems are up to 20 centimetres long and 0.5 millimetres wide with very narrow leaves.
Small flowers are tightly clustered in dense oval spikes near the top of the stem. Tiny, dry seeds are brown with bluish highlights.
Where it lives
The Small-flowered Lipocarpha grows on sandy beaches that are seasonally flooded and are protected from high waves or strong currents.
It is most abundant in open, sunny areas with little vegetation.
This sensitive plant does not tolerate even slight changes to its habitat, pollution, or competition from other plants.
Where it's been found in Ontario
In Canada, based on surveys done in 2000 and 2001, the Small-flowered Lipocarpha is thought to occur only in southern British Columbia and northwestern Ontario.
In Ontario, it is found in the Lake of the Woods and Rainy Lake areas.
In 1987, Small-flowered Lipocarpha was reported in Essex Country in southwestern Ontario, but shoreline habitat destruction may have since resulted in loss of this population.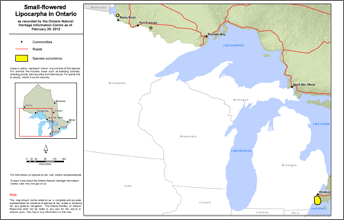 View a larger version of this map (PDF)
What threatens it
The main threat to Small-flowered Lipocarpha is habitat loss and degradation, pollution, erosion and vehicle traffic on beaches. Invasive plants may also threaten this plant.
Action we are taking
Threatened Species and their general habitat are automatically protected.
Recovery Strategy
A recovery strategy advises the ministry on ways to ensure healthy numbers of the species return to Ontario.
Read the executive summary and the full document (July 22, 2019)
Government response statement
A government response statement outlines the actions the government intends to take or support to help recover the species.
Read the government response statement (April 23, 2020)
Habitat protection
General Habitat Protection - June 30, 2013
What you can do
Report a sighting
Report a sighting of an endangered animal or plant to the Natural Heritage Information Centre. Photographs with specific locations or mapping coordinates are always helpful.
Volunteer
Volunteer with your local nature club or provincial park to participate in surveys or stewardship work focused on species at risk.
Be a good steward
private land owners have a very important role to play in species recovery; if you find Small-flowered Lipocarpha on your land, you may be eligible for stewardship programs that support the protection and recovery of species at risk and their habitats
invasive species seriously threaten many of Ontario's species at risk; to learn what you can do to help reduce the threat of invasive species, visit:
Report illegal activity
Report any illegal activity related to species at risk to 1-866-MOETIPS (6638477).
Quick facts
the seeds of the Small-flowered Lipocarpha can lie dormant in the sand for long periods of time and germinate only when conditions are favourable
this tiny plant has a very wide range; it is found all the way from Brazil to southern Canada, and in Africa
the pristine sandy shorelines where Small-flowered Lipocarpha lives are also highly prized for cottage development
Small-flowered Lipocarpha resembles the seedlings of many other sedge species that live in the same habitat; experts use the unique shape of the tiny flower head, which is less than five millimetres long, to correctly identify this plant
Updated: January 28, 2022
Published: July 18, 2014