West Virginia White
Scientific name: Pieris virginiensis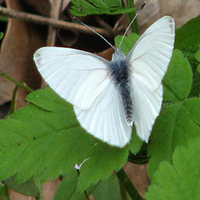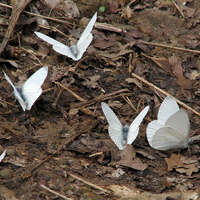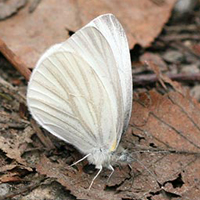 Cover photos credit: Marty Silver (left), Marty Silver (middle), and Jeffrey S. Pippen (right)
Status
Special Concern
"Special Concern" means the species lives in the wild in Ontario, is not endangered or threatened, but may become threatened or endangered due to a combination of biological characteristics and identified threats.
Date added to the Species at Risk in Ontario List
The West Virginia White was already assessed as a species of special concern when the Endangered Species Act took effect in 2008.
What it looks like
The West Virginia White is a small – three to four centimetre wingspan – dingy white butterfly. Its wings appear translucent and on the underside of the hind wing, the veins have grey-brown scaling. As a caterpillar, it is yellow-green with a green stripe along each side.
Where it lives
The West Virginia White lives in moist, deciduous woodlots. This butterfly requires a supply of toothwort, a small, spring-blooming plant that is a member of the mustard family, since it is the only food source for larvae.
Where it's been found in Ontario
The West Virginia White is found from Quebec and Ontario south through New England and the Appalachian region to Georgia. Although common in parts of the United States, this butterfly is rare in Ontario, where it has been seen at about 50 sites.
The majority of sites in the province are in central and southern Ontario, but it also extends north to Manitoulin and St. Joseph islands. The largest populations are in the western Lake Ontario region.
What threatens it
The West Virginia White was probably never common in Ontario. Habitat fragmentation has been responsible for the loss of some sites.
This butterfly is also threatened by garlic mustard, an invasive species in Ontario. Garlic mustard is related to toothwort, so butterflies may lay eggs on it, but the resulting larvae do not feed on the mustard and die.
Action we are taking
Special concern species do not receive species or habitat protection.
Management plan
A management plan advises the ministry on ways to ensure healthy numbers of the species return to Ontario.
Read the management plan (June 28, 2013).
Government response statement
A government response statement outlines the actions the government intends to take or support to help recover the species.
Read the government response statement (March 7, 2014).
What you can do
Report a sighting
Report a sighting of an endangered animal or plant to the Natural Heritage Information Centre. Photographs with specific locations or mapping coordinates are always helpful.
pollinators, such as butterflies, are in steep decline across the globe and they play a key role in the survival of many of Ontario's rare plants; for information on how you can help monitor pollinator populations in Ontario, visit: www.seeds.ca/proj/poll
Volunteer
Volunteer with your local nature club or provincial park to participate in surveys or stewardship work focused on species at risk.
Be a good steward
Private land owners have a very important role to play in species recovery. You may be eligible for stewardship programs that support the protection and recovery of species at risk and their habitats.
Report illegal activity
Report any illegal activity related to plants and wildlife to 1-877-TIPS-MNR (847-7667).
Quick facts
the West Virginia White is one of the first native butterflies to emerge in spring
this butterfly was officially listed as endangered by Ontario in 1977, but in 1990, after a review of its distribution and abundance, its status was changed to vulnerable (now "special concern")
West Virginia White butterflies fly largely within their woodland habitat and are hesitant to cross open fields or any unshaded habitat
Updated: March 09, 2023
Published: July 18, 2014