Eastern flowering dogwood (Species at Risk)
Scientific name: Cornus florida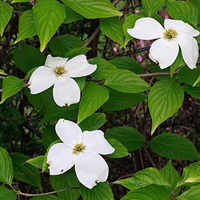 Cover photo credit: Wasyl Bakowsky
Status
Endangered
"Endangered" means the species lives in the wild in Ontario but is facing imminent extinction or extirpation.
Date added to the Species at Risk in Ontario List
February 18, 2009.
What it looks like
Eastern Flowering Dogwood is a small tree that reaches 3-10 metres in height and has oval leaves arranged in pairs along the branch.
The bark of larger trees is brownish-grey and separated into scales, giving it the appearance of alligator skin. Tiny yellow flowers grow in clusters at the ends of small branches and are surrounded by four large, showy white leaves that look like petals.
The berries grow in clusters of two to six. They are smooth and turn bright red in late summer.
Where it lives
Eastern Flowering Dogwood grows under taller trees in mid-age to mature deciduous or mixed forests.
It most commonly grows on floodplains, slopes, bluffs and in ravines, and is also sometimes found along roadsides and fencerows.
Where it's been found in Ontario
Eastern Flowering Dogwood is a fairly common species in the core of its range in the middle and southern United States. In Canada, it can only be found in southern Ontario in the Carolinian Zone (the small area of Ontario southwest of Toronto to Sarnia down to the shores of Lake Erie).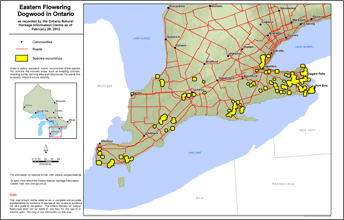 View a Larger version of this map (PDF)
What threatens it
Dogwood anthracnose fungus is the primary threat to the species. This fungus first attacks the leaves of the tree, then spreads through the twigs and trunk.
Mortality of infected trees usually ranges from 25-75% and has had a devastating impact on Eastern Flowering Dogwood populations.
Habitat loss and fragmentation (when habitat is broken into smaller segments) are also serious threats to the species.
Action we are taking
Endangered Species and their habitat are automatically protected
Recovery strategy
A recovery strategy advises the ministry on ways to ensure healthy numbers of the species return to Ontario.
Read the executive summary (February 18, 2010)
Read the recovery strategy (February 18, 2010)
Government response statement
A government response statement outlines the actions the government intends to take or support to help recover the species.
Read the government response statement (November 18, 2010)
Five-Year Review of Progress
A five-year review reports on progress made toward protecting and recovering a species, within five years of publishing a species' government response statement.
Read the report on progress towards the protection and recovery of 13 species at risk, including Eastern Flowering Dogwood (2015)
Habitat protection
A habitat regulation defines a species' habitat and many describe features (e.g., a creek, cliff, or beach), geographic boundaries or other unique characteristics.
Read the regulation (July 1, 2011)
What you can do
Report a sighting
Report a sighting of an endangered animal or plant to the Natural Heritage Information Centre. Photographs with specific locations or mapping coordinates are always helpful.
Volunteer
Volunteer with your local nature club or provincial park to participate in surveys or stewardship work focused on species at risk.
Be a good steward
Private land owners have a very important role to play in species recovery. If you find an eastern flowering dogwood on your land, you may be eligible for stewardship programs that support the protection and recovery of species at risk and their habitats.
Populations of many insects that pollinate plants are declining around the world. For information on how you can easily give insect pollinators a helping hand visit: Seeds of Diversity.
Report illegal activity
Quick facts
Eastern Flowering Dogwood produces showy flowers in the spring just as the leaves begin to develop. Large, white, petal-like leaves surround the tiny flowers and make them obvious targets for insect pollinators.
The bright red fruit of this tree is poisonous to humans but can be eaten by over 50 species of birds and small mammals. These animals help distribute Eastern Flowering Dogwood seeds throughout forests.
Eastern Flowering Dogwood can look similar to the more common Alternate-leaved Dogwood. Don't be fooled! As its name suggests, the Alternate-leaved Dogwood has leaves occurring singly along the branch (an arrangement referred to as 'alternate') whereas Eastern Flowering Dogwood has leaves arranged in pairs ('opposite' leaf arrangement) and also has distinguishing bright red, shiny berries.
Aboriginal people used Eastern Flowering Dogwood for medicinal purposes and used the wood for carving and making tools. Early settlers also sought after the tree's dense, fine-grained wood.
Updated: February 24, 2022
Published: July 17, 2014