Hoptree Borer
Scientific name: Prays atomocella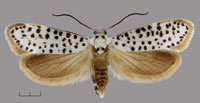 Cover photo credit: © Jean-François Landry
Status
Endangered
"Endangered" means the species lives in the wild in Ontario but is facing imminent extinction or extirpation.
Date added to the Species at Risk in Ontario List
June 2, 2017
Read the assessment report (PDF)
What it looks like
The Hoptree Borer is a small moth with an average wingspan between 17 and 20 mm. The species has a unique pattern and colour. It has a white front wing with small black spots and a pinkish rust-brown hind wing and abdomen. Larvae are up to 20 mm long and pale green to yellowish with unclear lateral lines.
Where it lives
The Hoptree Borer is dependent on its sole larval host plant, Common Hoptree, which occurs on shorelines of Lake Erie. Hoptree Borer has been documented only in the largest subpopulations of Common Hoptree, and has not been found in the smaller, more isolated Common Hoptree subpopulations along Lake Erie northeast of Point Pelee.
Where it's been found in Ontario
The distribution of Hoptree Borer is extremely restricted in Ontario. It is thought to occur in only two locations: Point Pelee National Park and on Pelee Island. The locations where Hoptree Borer is currently known to be found are within protected areas.
What threatens it
Threats which impact the species' host plant, Common Hoptree, also threaten the Hoptree Borer. The primary threats include shoreline erosion and degradation, natural succession of larger shade-producing plants, and competition with invasive plant species.
Other potential threats include increases in the abundance of Hoptree Leaf-roller Moth, a native species that can remove almost all leaves from the host plant and may adversely affect Hoptree Borer through competition for food.
Action we are taking
Endangered species and their general habitat are automatically protected.
Recovery Strategy
A recovery strategy advises the ministry on ways to ensure healthy numbers of the species return to Ontario.
Read the executive summary and the full document (December 7, 2018).
Government response statement
A government response statement outlines the actions the government intends to take or support to help recover the species.
Read the government response statement (September 5, 2019).
What you can do
Report a sighting
Volunteer
Volunteer with your local nature club or provincial park to participate in surveys or stewardship work focused on species at risk.
Be a good steward
Private land owners have a very important role to play in species recovery. If you find Hoptree Borer on your land, you may be eligible for stewardship programs that support the protection and recovery of species at risk and their habitats.
Report illegal activity
Report any illegal activity related to plants and wildlife to 1-877-847-7667.
Quick facts
The biology of Hoptree Borer, including the length of different life stages and egg-laying behaviour, is not well-understood.
The larvae of this species feed solely on Common Hoptree and the feeding of adults has not been observed.
Updated: July 28, 2021
Published: March 21, 2017