Moose management policy
How the province sustainably manages its moose population.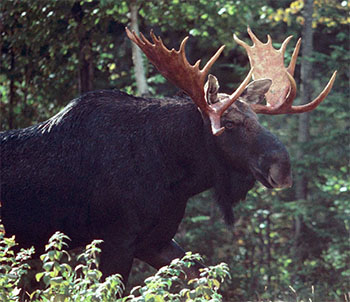 Foreword
Ontario has a long history of moose management and the province"s moose management program has continually been enhanced and refined. This document replaces Ontario's 1980 Moose Management Policy and reflects the province's current approach. It sets out direction for a landscape and ecologically-based approach to moose management. It provides a framework for decision-making related to moose management in Ontario, including a goal, guiding principles, objectives and key strategies for moose management.
This policy is complemented by two additional guidance documents:
Moose Population Objectives Setting Guidelines
Moose Harvest Management Guidelines
1.0 Introduction
Moose are icons of Ontario"s northern forests. They hold an important place in northern ecosystems and are an integral part of Ontario's biodiversity. Moose contribute substantial social, economic and ecological benefits to the people of Ontario. They hold significant value for Aboriginal peoples. They are highly sought after as a game animal, a means of subsistence, are very popular for viewing, and important for tourism. This widespread value has resulted in moose being highly coveted and one of Ontario's most intensively managed species.
2.0 Strategic direction
The Ontario Ministry of Natural Resources" (OMNR) strategic and policy direction for wildlife is found in Our Sustainable Future and Ontario's Biodiversity Strategy. These documents direct the ministry to continue to move towards a more ecological approach for managing resources and emphasize both ecosystem and adaptive management approaches to resource stewardship.
Ontario"s moose management program will contribute to the conservation of moose and their habitat and, in so doing, will assist Ontario in achieving biodiversity conservation goals. Ontario's moose management policy is consistent with the recommended actions identified in Ontario's broader strategic documents.
3.0 Policy context
Four members of the deer family (Cervidae) are native to Ontario: moose, white-tailed deer, woodland caribou and American elk. These cervid populations provide many benefits to the public, including recreation in the form of hunting and viewing, subsistence hunting, economic benefits through tourism, and contributions to biodiversity.
Ontario"s Cervid Ecological Framework strategically addresses cervid management at the broad landscape and ecological level. It consolidates and integrates Ontario's approach to managing cervid species in relation to each other with consideration of the broader ecosystem(s) they share. Ontario's Moose Management Policy fits within the overarching cervid management goal, guiding principles and broad cervid management objectives set out in the Cervid Ecological Framework.
The legal framework for Ontario's moose management program is provided by the Fish and Wildlife Conservation Act, 1997 (FWCA), the Crown Forest Sustainability Act, 1994 (CFSA), the Public Lands Act, 1990 (PLA), the Constitution Act, 1982, the Provincial Parks and Conservation Reserves Act, 2007, and the Planning Act, 1990, (through the Provincial Policy Statement, 2005).
Ontario's Moose Management Policy is based on a broad range of ecological knowledge and socio-economic considerations, on the best available science and with an awareness of the inherent uncertainties and risks of various management actions. The policy development process also balances a provincially consistent framework with the flexibility to accommodate regional and local ecological and socio-economic circumstances and objectives.
4.0 Moose management goal
The goal of Ontario's moose management program is to ensure sustainable moose populations and the ecosystems on which they rely, for the continuous provision of ecological, cultural, economic and social benefits for the people of Ontario.
5.0 Guiding principles
The following guiding principles for moose management have been developed in the context of the strategic direction set out in Our Sustainable Future (2005):
Moose have an intrinsic value within the natural ecosystem, and for the people of Ontario.
Moose, and the ecosystems in which they occur, will be managed sustainably to provide an optimal mix of benefits desired by the people of Ontario.
Moose management will consider the best available knowledge (including scientific, local and Aboriginal traditional knowledge), as well as social, cultural and economic values and will include the management of both populations and habitat with consideration of potential stressors (e.g. climate change, predator- prey interactions, disease).
An Adaptive Management approach will be taken for moose management and harvest strategies.
Moose populations are generally managed at the Wildlife Management Unit level (or aggregations of WMUs/sub-zone) to achieve management goals and objectives set out by Cervid Ecological Zone.
Moose management will respect Aboriginal peoples' unique perspectives, traditional knowledge and practices related to moose and the exercise of their constitutionally protected Aboriginal or treaty rights.
All Ontarians will be encouraged to participate in planning and decision-making in moose management.
6.0 Moose management objectives
Objective 1: To manage moose populations sustainably according to the broad overarching direction set out in Ontario's Cervid Ecological Framework.
Objective 2: To provide an optimal mix of benefits from the moose population through harvest allocation and through the management of activities related to moose.
7.0 Moose management strategies
The following key management strategies have been developed to support each objective and provide several approaches for consideration.
Objective 1: To manage moose populations sustainably according to the broad overarching direction set out in Ontario's Cervid Ecological Framework.
Strategies:
Legislation and policy
Population objectives
Population management
Population assessment
Habitat management
Legislation and policy
The Fish and Wildlife Conservation Act, 1997 contains the regulatory tools to manage the harvest of moose and reflects key policy direction for the program. Regulatory and policy changes may be made to reflect changes in direction over time.
Strategy 1.1: Develop and maintain adequate policy direction and legislation/regulation support for moose management by:
Reviewing policy direction and associated legislation and regulations periodically in light of new information from research, monitoring and other social considerations.
Ensure transparent decision-making by consulting on policy or regulatory changes.
Revising conservation approaches as new knowledge and information becomes available.
Population objectives
Moose population objectives within cervid ecological zones will define the desired range of moose densities for Wildlife Management Units. Moose population objectives need to consider the natural ecological system in the area and provide for optimal benefits to Ontarians.
Strategy 1.2: Building on the guidance in Ontario's Cervid Ecological Framework, develop moose population objectives for each Cervid Ecological Zone within moose range by:
Considering the array of ecological factors affecting moose populations in each zone, including consideration of the status of and objectives for other cervid and predator populations.
Using Cervid Ecological Zone population objectives to inform the calculation of objectives at the sub-zone and WMU levels.
Allowing for a range of socio-economic benefits to be accrued to the people of Ontario wherever possible.
Consulting with Aboriginal organizations, the public and interested stakeholders on population objectives.
Evaluating these objectives and revising where necessary.
Population management
The maintenance of healthy, sustainable moose populations on the landscape requires assessing the influence of mortality from harvest, non-hunting and natural mortality. As the demand for moose harvest greatly exceeds supply, the effect of harvest management strategies must be monitored and managed to help achieve moose population objectives.
Strategy 1.3: Ensure a sustainable moose population by managing the demographic structure of the moose population through application of a selective harvest system.
Strategy 1.4: Where required to meet moose population objectives, consult on and implement further methods of managing moose harvest on a Cervid Ecological Zone/sub-zone basis by:
Adjusting the moose hunting seasons to manage harvest while ensuring reasonable opportunities to participate in a hunt.
Prescribing the type of firearms and other equipment (e.g. archery equipment).
Ensuring appropriate, stream-lined decision-making processes for managing all facets of the moose harvest.
To the extent possible, employing other methods of managing harvest before consideration is given to limiting hunter numbers.
Strategy 1.5: Improve the understanding of the potential effects of climate change on moose by:
Exploring the need for research/monitoring initiatives to assess the effects of a changing climate on moose populations at the landscape level.
Revising moose population objectives as necessary.
Strategy 1.6: Consider linkages between management objectives for predator species of moose (e.g. wolves, bears) to ensure species management objectives help to maintain sustainable populations compatible with the natural ecosystems they inhabit.
Strategy 1.7: Manage populations of moose and other wildlife species to limit the impacts of disease by:
Managing moose populations at densities that aid in limiting the transmission of disease.
Managing populations of other wildlife to limit the transmission of diseases to moose.
Cooperating with other agencies and partners to monitor the presence of exotic and emerging infectious diseases in wild and domestic animals and minimize risks that contribute to their spread into moose populations.
Strategy 1.8: Accommodate Aboriginal and treaty rights in the sustainable harvest of moose in a manner consistent with constitutional requirements by:
Working with Aboriginal organizations and communities to achieve ecologically sustainable moose populations and sustainable harvests for the subsistence use of Aboriginal people.
Considering partnerships that share responsibilities and benefits for the conservation and harvest of moose.
Incorporating traditional knowledge of Aboriginal peoples into moose management planning and decision-making.
Strategy 1.9: Actively engage Ontarians in planning, decision-making and sustaining the benefits of moose populations through effective communication and outreach programs.
Population assessment
Managing moose populations requires an understanding of moose abundance, distribution and population trends relative to management objectives. Ongoing monitoring, assessment and research are critical for informed decision-making, sound policy development and the adaptive management of moose.
Strategy 1.10: Assess, monitor and report on the status and trends in moose populations on a Cervid Ecological Zone and Wildlife Management Unit basis by:
Using the most appropriate types, quality, and frequency of inventory and monitoring programs to estimate the moose population.
Standardizing moose population surveys to provide sufficient accuracy and precision to allow reliable comparisons within and across Cervid Ecological Zones and Wildlife Management Units.
Incorporating accurate, cost-effective technologies as they become available.
Using and refining population models to estimate the potential impacts of different management scenarios on moose populations.
Strategy 1.11: Ensure the collection and management of harvest and harvest- related information needed to manage moose populations by:
Clearly defining appropriate data requirements, incentives, and deterrents to ensure suitable data are collected.
Incorporating new effective methods of data collection as they become available.
Collecting additional biological and/or socio-economic information required to evaluate specific issues and management actions (e.g. low calf recruitment; effectiveness monitoring & evaluation) as needed and as resources are available.
Working with Aboriginal communities and organizations to improve understanding of the importance for moose to Aboriginal people.
Habitat management
On Crown lands within the Area of the Undertaking, habitat management in forested ecosystems is primarily conducted through the forest management planning process (i.e., preparation of forest management plans and use of forest management guides). The ministry is moving towards a coarse and fine filter approach for forest management at landscape and stand and site scales. The forest management planning process is the primary mechanism for addressing moose habitat management.
Strategy 1.12: Consistent with Ontario's Cervid Ecological Framework and moose population objectives, integrate moose population and habitat management by:
Integrating moose management and habitat through land use and other resource management processes (e.g. Forest Management Planning) to ensure adequate consideration and suitable management of moose habitat.
Integrating moose habitat requirements during the development of forest management guides.
Using the best available science to project the potential impacts of climate change on moose habitat and to explore methods to mitigate and/or adapt moose management objectives to those impacts.
Strategy 1.13: Encouraging the provision of suitable moose habitat on private land by:
Providing advice to landowners about moose habitat management.
Providing input into municipal planning processes to allow the consideration of moose habitat in development decisions consistent with Ontario's Provincial Policy Statement.
Objective 2: To provide an optimal mix of benefits from moose through harvest allocation and the management of activities related to moose.
Strategies:
Allocation
Non-Consumptive Uses
Enforcement
Education
Human-Moose Conflict
Allocation
In addition to defining ecologically sustainable moose population objectives, harvest levels and opportunities, it is important to apportion these opportunities in a manner which will accrue the greatest ecological, social and economic benefits to the people of Ontario.
Strategy 2.1: Apportion the allocation and harvest of moose in relation to the available supply, with consideration of all user groups by:
Continuing to monitor the demand for and supply of moose harvest opportunities to determine if current allocation strategies are sufficient and effective.
Periodically evaluating the status of Ontario's moose harvest allocation system to determine if refinements are required.
Strategy 2.2: Provide a reasonable and equitable distribution of opportunities to harvest moose by:
Enabling as much participation as possible in moose hunting in Ontario.
Wherever possible, enabling all resident moose hunters to participate in a hunt for a moose of some type annually.
Providing flexibility by enabling hunters to hunt moose alone or in a group.
Encouraging the sharing of a moose by providing incentives for hunters to hunt in larger groups.
Utilizing mechanisms for stakeholder involvement in reviewing the allocation of moose in moose harvest plans (e.g. Provincial Advisory Committees).
Ensuring that the allocation process considers the interests of all resources users including the tourist industry, within the bounds of resource sustainability.
Providing equitable treatment in the allocation of opportunities amongst residents and the tourist industry by recognizing past practices acknowledging that the percentage of the planned harvest allocated to the tourism industry varies greatly from WMU to WMU based on previous apportioning.
Improving the understanding of the factors contributing to Ontario moose hunters' perception of a "quality hunt' (e.g. moose sightings, moose sign, hunter crowding).
Periodically assessing the moose validation tag distribution system to ensure it continues to meet the needs of the hunting community.
Non-consumptive Uses
Strategy 2.3: Maintain and, where appropriate, increase opportunities for people to experience moose in the wild by considering moose viewing opportunities.
Enforcement
Strategy 2.4: Communicate and enforce legislation and regulations to promote legal hunting and suppress poaching by:
Focusing enforcement efforts on areas where illegal harvest may significantly affect moose population sustainability.
To the extent feasible, ensuring legislation, regulations, and procedures are straightforward, easy to follow and enforce.
Education
Strategy 2.5: Improve moose hunter education and increase overall understanding and compliance with the harvest management system by:
Updating and making available Moose Hunter Education products.
Making available a variety of visual information on moose identification and cautions (e.g. Ontario Moose Identification Guide).
Ensuring regulations pertaining to the use of moose hunting equipment keep pace with developing technology as appropriate.
Human-moose conflict
Strategy 2.6: Reduce human-moose conflicts and improve public safety by working with other agencies and partners to reduce moose-vehicle collisions.
8.0 Implementation
The implementation of the strategies outlined within this policy will require ongoing analysis and discussion related to the identification of key priorities and requirements. Ontario's Ministry of Natural Resources will lead discussions on implementation and conduct consultation with the public, Aboriginal organizations and interested stakeholders as appropriate.
Updated: June 17, 2021
Published: February 23, 2018