Ontario's local food report, 2020 edition
Learn about the people, businesses and organizations successfully working to strengthen Ontario's local food economy.
Minister's message
Ontario is fortunate to have one of the strongest food supply chains in the world. COVID-19 has tested that supply chain and I am proud of all of our hardworking farmers, food processors, distributors and retailers who have risen to the challenge by working tirelessly to make sure the people of Ontario continue to have access to healthy, delicious food.
Ontario's agri-food system has a long history as an economic driver and contributes $47.7 billion to the provincial economy while supporting 837,100 jobs.
Throughout this challenge, we have seen the unwavering spirit of our agri-food and beverage sector carry us through these unprecedented times. It is truly inspiring to see so many go above and beyond to help in our fight to stop the spread of COVID-19.
Take Dillon's Distillers, for example. The small batch gin and whiskey distillery in Beamsville quickly responded to our call for help by switching their spirits production to hand sanitizer, providing it free of charge to frontline health care workers. Working with local businesses, they continue to address the hand sanitizer shortage by making their product available for order on their website.
Dillon's is not the only distillery to step up. Brock Street Brewing Company in Whitby partnered with ProtectENOL to produce a hand sanitizer to help fill the gap in availability. Signal Brewery in Corbyville and Kinsip House of Fine Spirits in Bloomfield also switched their production to hand sanitizer. The New Ontario Brewing Company also began producing PureNorth 75 hand sanitizer for North Bay residents with shipping available to all Ontarians.
The spirit of collaboration can also be found in a group of craft breweries and distilleries from Waterloo Region who came together to fill a need in Northern Ontario. Kitchener's Waterloo Brewing is supplying alcohol for sanitizer to Elmira's Murphy's Law Moonshine who in turn partnered with Air Canada, Diageo, Willibald Farm Distillery, Brewery & Restaurant, Silver Fox Distillery, Heretic Spirits, Spring Mill Distillery and Innocente Brewing Company, in order to distribute sanitizer to Northern Indigenous communities and the First Nation medics who serve them.
These are just a few examples of the Ontario Spirit that Premier Ford often speaks about. Supporting one another during these difficult times and keeping food on the shelves for Ontario families defines our agri-food sector.
This year's Local Food Report is a celebration of how the sector is supporting us during the outbreak. As you read through the many examples of selfless determination and generosity, I hope you will feel as inspired as I do by these agri-food heroes.
As Ontario gradually reopens and we look to the rest of 2020 and beyond, we will continue to build the strength and resiliency we need to beat this virus, so our province, our people and our agri-food sector can come out of this crisis stronger than ever.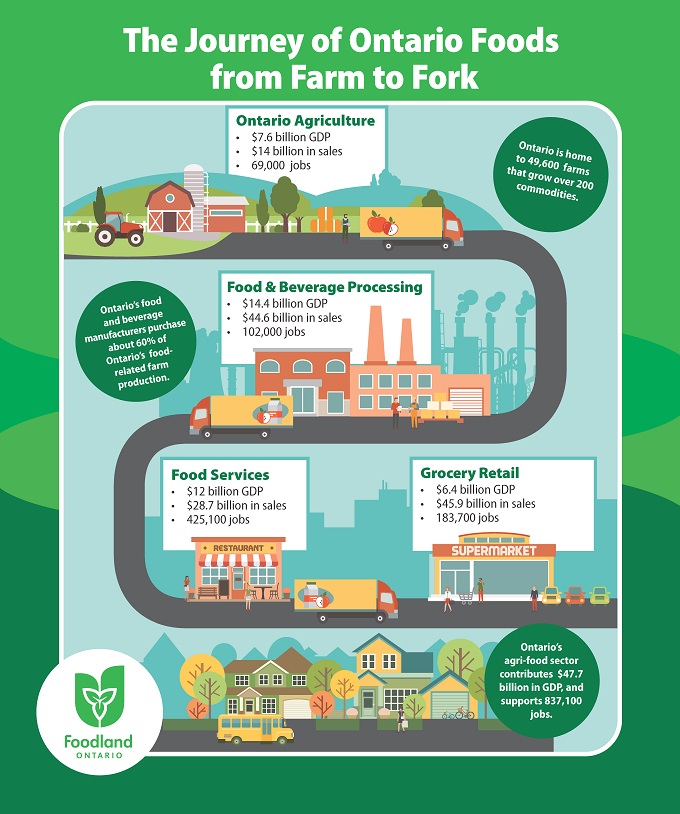 Introduction
Just as the agri-food sector is an economic driver for Ontario's economy, local food is the heart of Ontario's agri-food system. Agriculture has a rich tradition across the province, and in recent years, the demand for local food has continued to increase. In fact, 65% of food produced in Ontario is consumed right here in Ontario – making local food a growing enterprise across the province.
The first few months of 2020 have been unprecedented with COVID-19 disrupting every aspect of life in Ontario, in Canada and around the world. The people, organizations and stories highlighted in this report showcase the Ontario Spirit – the incredible dedication and hard work that the people of Ontario's agri-food sector deliver each and every day.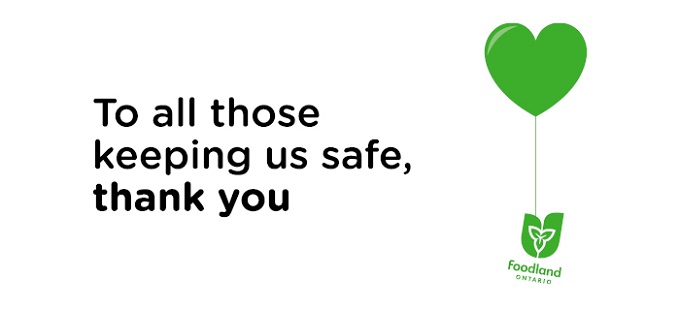 Promoting local food literacy
Ontario's farm and food processors provide more than half of what the people of Ontario eat. Understanding the journey that Ontario food takes – from the farm gate to the table's plate – is important for those trying to eat healthy, for families looking to support local farmers, and for institutions balancing their clients' dietary needs and their budgets.
For more than 40 years, Foodland Ontario has worked with farmers, food processors, grocery stores, restaurants and foodservice companies to promote all the good things that are grown right here in Ontario.
Now more than ever, the demand for safe and healthy local food is on the rise, as is people's interest in where their food comes from.
As the province continues to take decisive steps to protect the health and well-being of individuals and families from COVID-19, many organizations are finding new, digital ways to connect with people across the province.
One such organization is AgScape, dedicated to teaching young people about agriculture. With the cancellation of trips, outings and camps over March Break, many parents turned to digital resources as an alternative. AgScape was ready with its Virtual Camp Experience to keep kids learning with interactive activities that explore local food and farming.
Farm & Food Care is another example. Using their expertise in connecting Ontarians with reliable information about the food they eat and the farmers that produce it through multiple platforms like FarmFood360, they recently launched a new online experience in partnership with AgScape.
Their series of bi-weekly Facebook Live farm tours provides parents and students with the chance to virtually visit working farms and ask questions in real time. To date, the virtual live tours have showcased Jordan Miller, a Manitoulin Island beef farmer and Dusty Zamecnik, a strawberry greenhouse grower in Norfolk County.
Farm & Food Care also helps to promote agriculture and food literacy through other channels, including The Real Dirt on Farming Photo contest running until July 1, 2020. Winning photos will be used in the updated fifth edition of The Real Dirt on Farm, a publication that addresses common questions and misconceptions about food and farming.
The declaration of the state of emergency in Ontario has meant a dramatic change in routine for many families across the province. They are cooking more at home – some are even trying it for the first time. Exploring online resources like the Dairy Farmers of Ontario's Savour Ontario at home and the Foodland Ontario website provides a variety of recipes that range from kid-friendly to fine dining. Recipes on the Foodland Ontario website can be sorted by seasonality, and nutritional information is provided so everyone can make healthy choices. Three of the most popular kid-friendly recipes on Foodland Ontario's website right now are: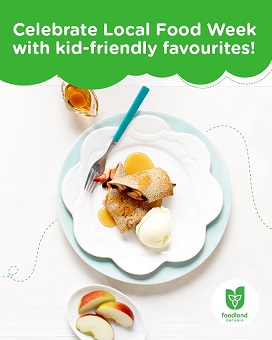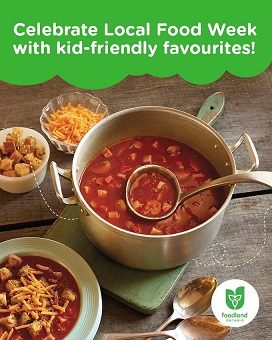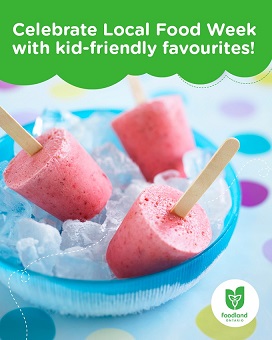 Dairy Farmers of Ontario, in collaboration with over 30 Ontario chefs, has launched Savour Ontario at home. This innovative new website provides inspiration to home cooks and promotes chefs, growers and producers by sharing a free collection of recipes that include specially selected, personal dishes using locally-sourced ingredients found in many home pantries.
These are just a few examples of the way Ontario's hardworking farmers, food processors, chefs and Foodland Ontario are increasing local food literacy and supporting parents and families across the province with inspiring recipes that help make meal times easy and enjoyable.
Opening access to local food
Ontario's agriculture and food industry relies on hundreds of thousands of people who work in diverse jobs from farming and food processing to transport and food retail. While the sector currently employs 837,100 people, the need for workers in the food system due to COVID-19 remains strong.
The Ministry of Agriculture, Food and Rural Affairs has responded by launching Agriculture and Food Jobs. The website provides access to job opportunities and training resources in all parts of Ontario's food supply chain. For those individuals looking to help their community and the province, the job portal provides a unique opportunity to do essential work in keeping food available to the rest of Ontario.
Through the Canadian Agricultural Partnership, a five-year commitment by Canada's federal, provincial and territorial governments that support Canada's agri-food and agri-products sector, the governments have invested $1 million to help primary agriculture, food processing companies and retailers recruit and train the workers they need to keep our supply chain strong.
On the retail side, grocery store workers have been putting in extra hours to keep shelves stocked and food available for the long lines of patient shoppers. Truck and delivery drivers have responded to the increase in demand by working evenings, weekends and overnights to make sure that grocery stores are stocked, and the surge of home orders are delivered.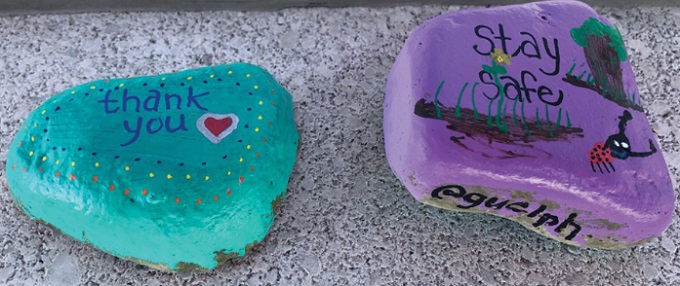 The people of Ontario are recognizing these everyday heroes through acts of kindness like leaving painted rocks with words of encouragement at grocery stores, purchasing meals for frontline workers, and putting out lawn signs to show their support.
Many restaurants have altered their service options to include take-out, home delivery or pick-up window options, partnering with delivery services that allow customers to order meal packages in advance and help keep restaurants in business.
For some, restaurants are like their own dining rooms and chefs and staff like family, and 'support local restaurants' campaigns have encourage members of the public to continue supporting their favorite dining spots with gift cards.
Restaurants, cafes and bakeries have adapted quickly to curbside and online options. One of the trailblazers in downtown Toronto is Mother Cocktail Bar. The staff found a way to re-open and help the community by turning their kitchen into a small grocery market and relieving some of the pressure at local grocery stores. Essentials such as milk, butter, bread and vegetables are being offered online for delivery or curbside pickup. Over April and May, many other restaurants, cafes and bakeries have joined the list of grocers to help supply consumers with high-demand food items such as flour, yeast and toilet paper.
During this crisis many in the agri-food sector are showing tremendous acts of generosity and kindness by supporting our most vulnerable citizens. The Foodland grocery store in Haliburton teamed up with the Rotary Club to offer free, same-day shopping and delivery to seniors and those with complex health issues. This collaboration grew to include Gambles Produce and the introduction of the Good Food Box, a monthly box of fresh seasonal fruits and vegetables at a reduced cost for delivery to 12 locations in and around surrounding townships.
As the demand for local food has increased, many Ontarians are turning to new and innovative ways to buy their groceries – like using digital platforms to find famers' markets and on-farm digital markets with curbside pickup.
Many farmers' markets have expressed interest in implementing an online e-business model so they can better serve customers now and into the future.
In response, the federal and provincial governments through the Partnership, announced the Agri-Food Open for E-Business investment of $2.5 million to support online business opportunities through cost-share funding.
This initiative is helping farmers, farmers' markets, garden centres, greenhouses, nurseries and agricultural associations expand their online presence and offer more food choice to Ontario consumers. In today's competitive marketplace, direct farm marketing channels continue to be important ways for individuals and families to access local food. There are 180 members of Farmers' Markets Ontario and nearly 100 are with the Greenbelt Farmers' Market Network. The Ontario Farm Fresh Marketing Association has about 260 members, most of whom engage in direct farm sales.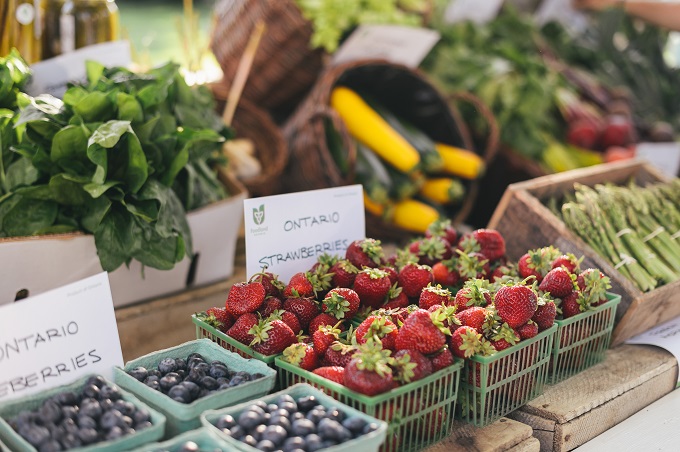 As the health and safety guidelines for COVID-19 continue to be updated, the government has announced several programs to support agri-food businesses during the crisis.
This includes the launch of the Agri-food Workplace Protection Program to help farmers and provincially licensed meat processing plants better protect employees and ensure the continued supply of healthy products for consumers during the COVID-19 outbreak.
Through this program, and as part of the Partnership, the federal and provincial governments are providing up to $4.5 million in cost-share funding to implement COVID-19 health and safety measures like purchasing personal protective equipment and redesigning workstations.
The Government of Ontario has also invested in enhanced training for food inspectors and reached an agreement with the federal government to share food inspectors, increasing inspection capacity and flexibility so that our agri-food sector can continue providing Ontarians with safe and nutritious food during COVID-19.
Ontario's farm organizations go above and beyond to feed Ontario
Feed Ontario unites food banks, industry partners, and local communities to fight hunger. Its network includes 130 food banks and 1,110 affiliate hunger-relief agencies across the province that together, serve over a half a million Ontarians in need each year.
During the COVID-19 outbreak, many people have required additional help to feed their families, increasing demand on the province's food banks. In response, Feed Ontario developed an innovative program to support food banks during the outbreak, the COVID-19 Emergency Food Box Program.
This program provides pre-packed emergency food boxes containing a week's worth of food to food banks for distribution to those in need. The program helps to address local food shortages, while minimizing exposure to COVID-19 by supporting physical distancing measures. To date, 450,000 food boxes have been provided to people who have visited a food bank in Ontario during the outbreak.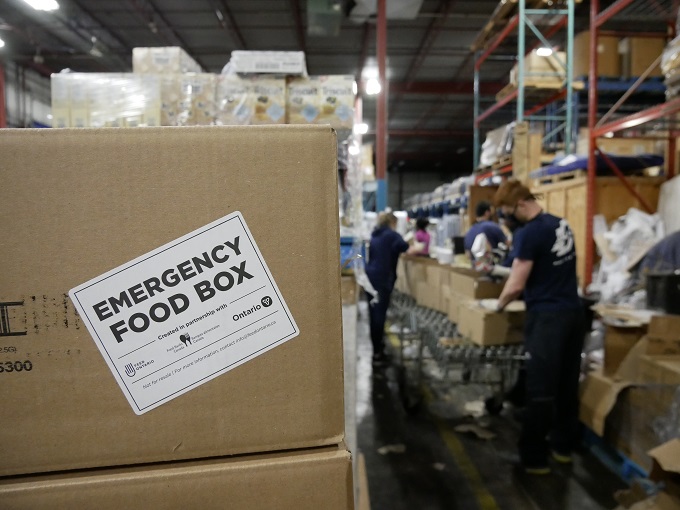 While COVID-19 significantly impacted people and communities across the province, the strength and resilience that Ontario's food bank network has shown, and the incredible support of its partners, is a testament to the amazing things that we are able to accomplish when we work together, even in the most extreme of circumstances.

Carolyn Stewart, Executive Director, Feed Ontario
With the onset of COVID-19, Ontario's commodity groups increased their support by providing additional food and financial resources for Feed Ontario's COVID-19 Emergency Response.
The Grain Farmers of Ontario generously donated $100,000 and the Ontario Beef Farmers $10,000 to the Feed Ontario COVID-19 Emergency Food Box program.
From April to September 2020, Egg Farmers of Ontario are donating 28,000 dozen Ontario eggs per month. On the local level, a further 55,000 dozen Ontario eggs will have been donated from April to June 2020 through zone donations to local food banks and community food organizations to support vulnerable populations. In total, 223,000 dozen Ontario egg cartons – over 2.5 million eggs – with a value of $401,400 will be donated to help feed those in need.
Since the Friends of the Foodbank program began in 2013, Ontario Pork and industry partners have contributed 198,000 pounds of fresh ground pork to Feed Ontario. This includes 10,000 pounds donated on March 31, 2020. The pork industry's Gratitude Project also leverages funds from Ontario Pork and industry partners for additional donations during the COVID-19 crisis.
Chicken Farmers of Ontario have delivered more than 500,000 chicken meals to food banks since the beginning of March 2020 and has made an additional donation of $25,000 to support Feed Ontario's Emergency Response program.
Dairy Farmers of Ontario have given Feed Ontario a donation of $100,000 as well as 200,000 litres of milk, in addition to the over one million litres donated to food banks annually with their partners at the Ontario Dairy Council and the Ontario Milk Transport Association. These donations, along with the longstanding annual donations by Ontario dairy producers, help to feed over 500,000 people during this challenging time.
These donations show the Ontario agri-food sector's commitment to supporting those most in need, local communities and the province's food system.
The Student Nutrition Program & Northern Fruit and Vegetable Program provide access to healthy food for children and families in Northern Ontario
Given the widespread school closures due to COVID-19, organizations across Ontario responsible for delivering school food programs have been busy redirecting their efforts towards those who need it most. These organizations are working together to find new and innovative ways to ensure that children and youth have access to high quality, healthy food while schooling at home.
In Northern Ontario, Roots to Harvest in Thunder Bay has worked with the local school boards, the Red Cross, the District Social Services Board, the city's Youth Inclusion Program and Isthmus to offer 430 weekly meal packages to families in need. These packages included a week's worth of cereal, fruit, cheese, granola bars, peanut butter and muffins. These packages are delivered to 13 different locations across Thunder Bay where about 900 children and 550 adults have benefited from the program weekly.
Roots to Harvest has used their kitchen to supplement food production and deliver meal packages to 13 different locations across Thunder Bay. About 900 children and 550 adults have benefited from the program.
With schools closed, Roots to Harvest has also worked with community partners to redirect provincial funding from the Student Nutrition Program toward the wholesale purchases of food. For example, Roots to Harvest worked with local grower Kevin Belluz, ordering 900 pounds of apples per week, which in turn has helped support the local economy.
Schools have always been more than just a place to learn. For many children it's a place of comfort which means having access to counselling, recreation and daily food programs. When the announcement was made that schools would be closing indefinitely, coupled with many grocery stores experiencing food shortages in the first couple weeks, we knew that families would experience a new and unanticipated stress, both financially and emotionally. As an organization connected to both the school, not-for-profit and food sector, we were in the perfect position to coordinate a collective response that could quickly alleviate food insecurity for many families in Thunder Bay. Being able to provide not just non-perishables, but also fresh and healthful fruit and vegetables has made this whole process a huge success, and the feedback we consistently get is how much people appreciate and look forward to the family food packages.

Erin Beagle, Executive Director, Roots to Harvest
Through the province's Northern Fruit and Vegetable Program, the Ontario Fruit and Vegetable Growers' Association (OFVGA) is working with seven public health units in the regions of Algoma, North Bay, Parry Sound, Northwestern Porcupine, Sudbury, Timiskaming, and Thunder Bay to ship fresh fruits and vegetables to support those communities, including priority Indigenous communities.
The Ontario Fruit and Vegetable Growers' Association has been privileged to partner with the Ontario government and other organizations to increase access to local food through programs such as the Northern Fruit and Vegetable Program and Fresh from the Farm school fundraising. The partnerships developed through these programs allow us to respond quickly to the needs of families while supporting local farmers during the outbreak.

Dan Tukendorf, Program Manager, OFVGA
By working together, fruits and vegetables are distributed to 85 different locations across Northern Ontario, serving an estimated 38,000 residents. To support distribution, they work with local organizations such as Roots to Harvest, the Regional Food Distribution Association (Thunder Bay) and Sudbury Food Bank to deliver the produce to families in need. Approximately 65% of the produce distributed through the program is from Ontario growers and co-packers.
Thanks to organizations like Roots to Harvest and the Ontario Fruit and Vegetable Growers' Association, many Ontario families in need are able to access fresh food during the COVID-19 outbreak.
Opening the door for local food access in the Broader Public Sector
Making it easier for Ontarians to access locally grown food continues to be an important part of Ontario's thriving agri-food system.
Before the COVID-19 outbreak, the broader public sector – government-funded institutions like schools, hospitals, municipalities, long-term care facilities, colleges and universities – stepped up to the challenge of achieving their local food targets and becoming Broader Public Sector Champions. Over the course of 2019-20, many institutions volunteered to track and report their procurement practices.
With the COVID-19 outbreak, families and individuals in need are facing increasing pressure on food security. In response, organizations like FoodShare Toronto have ramped up deliveries of their Good Food Box across the city, focusing on those most in need.
In Caledon and Orangeville, the Meals on Wheels program is ensuring seniors and people with disabilities continue to receive hot and frozen meals during COVID-19.
Brant County's Food For Thought launched its Emergency Food Relief Plan, providing nutritious food boxes, bushels of fresh apples and high-quality dairy products like cheese and yogurt to keep children and youth in the community well-nourished during the outbreak.
These are just a few of the many ways the broader public sector continues to make strides to increase local food access, particularly for those in most need.
The University of Guelph partners with The SEED to support those most in need
Established in 2015, The SEED is a not-for-profit food project at the Guelph Community Health Centre that was created by a coalition of community organizations and passionate volunteers. The SEED is dedicated to ending hunger in Guelph and to creating a community without barriers to healthy food.
In response to the COVID-19 outbreak, The SEED started the Emergency Home Delivery program in April 2020 to deliver 100,000 nutrition food boxes. It is working with the City of Guelph, Wellington County and Wellington-Dufferin-Guelph Public Health to identify those most in need.
The University of Guelph's Hospitality Services is an active supporter of the program. Under the direction of executive chef Vijay Nair, the university's chefs prepare 500 to 1,000 meals each day to help feed the city's most vulnerable citizens. With the restaurants on campus closed, University of Guelph's Hospitality Services had the necessary capacity, expertise and personnel to participate in this important program.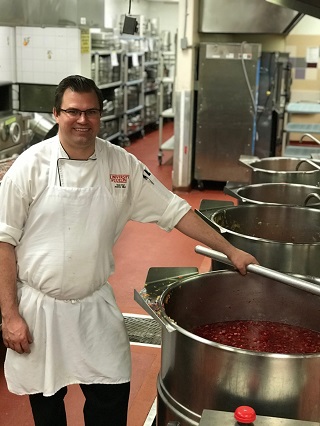 Students say the reputation of an institution's food service highly influences their decision to apply for admission. So, we offer only the best - and that means local Ontario food. Serving local food on campus is a priority for our team at Hospitality Services. Our chefs value Ontario's diverse, reliable and high-quality supply chain, and draw on it throughout the year to create thousands and thousands of delicious meals. We use the same quality ingredients for meals when we partner with groups like The SEED.

For many students, their first significant experience with local food happens at university...and when they graduate, they'll become the consumers that spend their food dollars on local food and beverages. We're proud to get them off on the right foot for lifelong support of Ontario farmers and processors.

Mark Kenny, Procurement Manager, University of Guelph Hospitality Services
The University of Guelph's Hospitality Services procures food from its local suppliers, provides the recipes and then portions, freezes, packs and labels each meal. Meals have included chickpea and vegetable stew with rice, pasta with tomatoes and mushrooms, and chicken or vegetarian chili.
The SEED also has the logistical side covered as they pick up the meals and deliver them to people's homes. In addition to the University of Guelph, The SEED also secured two other commercial kitchens, including the Orchard Park Kitchen at the Ignatius Jesuit Centre and space at the YM-YWCA facility.
Thanks to the leadership of The SEED and the availability of the University of Guelph's Hospitality Services commercial kitchen space, they can prepare fresh, healthy meals for those most in need.
Growing future success
The 2020 Local Food Report recognizes all of the farmers, food processors, distributors and food retailers who continue to demonstrate that our local food supply chain is robust and resilient by ensuring that people across Ontario have access to safe, healthy food during the COVID-19 outbreak.
Farmers like Michael and Judie Zajac at AE Natural Meats, who quickly adapted their sales model to take orders over the phone and have pick up or delivery options available to customers.
On-farm markets like Round the Bend Farm in Kettleby, that has responded to COVID-19 by extending its hours and offering safer shopping options for shoppers who want to support their local farm businesses.
Commodity organizations who are generously donating staples like milk and eggs, along with food processors also making food donations, like Dare Foods in Cambridge that gave 100,000 boxes of their Bear Paw cookies to food banks.
Restaurants that have adapted by establishing take-out, "walk up windows" and delivery services, and organizations like the Culinary Tourism Alliance that are making extra efforts to promote restaurants that serve local food and support local farmers.
Agricultural organizations that are giving kids at-home educational experiences, like the Ontario Federation of Agriculture's digital Six by Sixteen initiative, which is working with 20 industry partners to teach the next generation how to source local products along with cooking and life skills.
Local agri-food heroes have emerged across the province and along every part of the agri-food sector, demonstrating the Ontario Spirit.
The Ontario government has also stepped up to help the agri-food sector by taking decisive action to declare Ontario's food supply an essential service while at the same time taking the necessary steps to keep workers and families safe.
Ontario's agri-food sector has been a major driver of the province's economy in the past, and as the province moves towards economic recovery, it stands as a beacon of hope for the future.
We are all in this together and that's why now, more than ever, it is important to support locally grown and locally made food. Even in these challenging times, fresh Ontario produce, meat, dairy, poultry and speciality items like honey and maple syrup are available, thanks in no small part to our agri-food heroes. Look for the Foodland Ontario logo when you shop and let us all show our gratitude and support for our farmers, food processors, restaurants, grocery store workers – everyone across the agri-food supply chain – who keep good things growing in Ontario.
---
Text description of image:
This is a pictographic map that provides an overview of the Journey of Ontario Food: from Farm to Plate Fork. The pictographic map is made up of visuals and statistics that showcase the size an economic significance of the agri-food sector to Ontario's economy.
The journey begins at the farm represented by visuals of a barn, tractor and a truck. At this stop, there is a green bubble that explains that Ontario is home to almost 49,600 farms that grow over 200 commodities. There is also a white box that explains that Ontario agriculture contributes $7.6 billion in GDP, represents $14 billion in sales and supports 69,000 jobs.
On the map, we follow the truck's journey from the farm to a visual of a food and beverage manufacturing facility. At this stop, there is a second green bubble that explains that Ontario's food and beverage manufacturers purchase an estimated 60% of Ontario's food related farm production. There is also a second white box that explains Ontario's food and beverage processing sector contributes $14.4 billion in GDP, representing $44.6 billion in sales and supports 102,000 jobs.
On the map, we follow the truck's journey to visuals of a restaurant and a supermarket to signify two ways consumers can access local food products grown on the farm or processed at a food and beverage manufacturing facility. The restaurant represents the food services sector. This stop is accompanied by a third white box that explains that the food services contributes $12 billion in GDP, representing $28.7 billion in sales and supports 425,100 jobs. The supermarket represents food and beverage stores. This stop is accompanied by a fourth white box that explains that grocery retail stores contribute $6.4 billion in GDP, $45.9 billion in sales and supports 183,700 jobs.
On the map, we now make the journey from the supermarket to the home. This is the final stop on the journey - from the farm to the consumers plate. This stop features a picture of the Foodland Ontario logo. Ontarians are encouraged to look for the Foodland Ontario logo to help identify Ontario food products when shopping at a supermarket, farmers' market and on-farm market or when dining out at a restaurant. At this final stop, there is a fifth green bubble that explains that Ontario's agri-food sector contributes $47.7 billion in GDP and supports 837,100 jobs.
Updated: August 16, 2021
Published: November 10, 2020