Lowland Toothcup
Scientific name: Rotala ramosior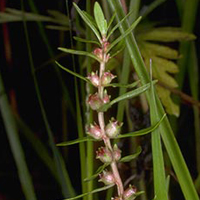 Cover photo credit: Donald Sutherland
Status
Endangered
"Endangered" means the species lives in the wild in Ontario but is facing imminent extinction or extirpation.
Date added to the Species at Risk in Ontario List
The Toothcup was already assessed as endangered when the Endangered Species Act took effect in 2008. In 2016, its name was changed to Lowland Toothcup.
Read the assessment report (PDF)
What it looks like
Lowland Toothcup is an annual herb that is a member of the Loosestrife family. It grows to about 40 centimetres in height.
It is typically green, but often has a reddish tinge in the late summer. The leaves of the Lowland Toothcup are oblong and up to five centimetres long. The small flowers are pinkish-white.
Where it lives
In Ontario, Lowland Toothcup grows along lake and river shorelines on thin sandy, muddy or gravely soils on Precambrian bedrock.
This shoreline habitat is often submerged in the spring and early summer and emerges when the waters recede.
Where it's been found in Ontario
Toothcup ranges throughout most of the United States, with the exception of some of the midwestern states, into Mexico and South America.
In Canada, Toothcup is found in south-central British Columbia and southeastern Ontario. Two lakes in Lennox and Addington County, Ontario supported about 6000 Lowland Toothcup plants in 2004, however, the numbers vary greatly from year to year depending on water levels.
The species had also occurred at a site in southwestern Ontario but is no longer found at that site.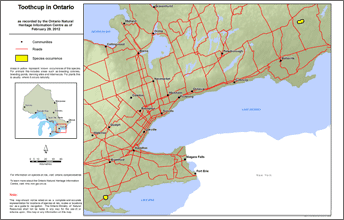 View a larger version of this map (PDF)
What threatens it
In Ontario, the primary threats to Lowland Toothcup are from habitat loss due to shoreline development and water-level control. Invasive species are considered a potential threat.
Action we are taking
Endangered species and their general habitat are automatically protected.
Recovery strategy
A recovery strategy advises the ministry on ways to ensure healthy numbers of the species return to Ontario.
Read the executive summary and full document (June 15, 2017)
Government response statement
A government response statement outlines the actions the government intends to take or support to help recover the species.
Read the government response statement (February 27, 2018)
Habitat protection
General Habitat Protection - June 30, 2013
What you can do
Report a sighting
Report a sighting of an endangered animal or plant to the Natural Heritage Information Centre. Photographs with specific locations or mapping coordinates are always helpful.
Volunteer
Volunteer with your local nature club or provincial park to participate in surveys or stewardship work focused on species at risk.
Be a good steward
private land owners have a very important role to play in species recovery; if you find Lowland Toothcup on your land, you may be eligible for stewardship programs that support the protection and recovery of species at risk and their habitats.
invasive species seriously threaten many of Ontario's species at risk; to learn what you can do to help reduce the threat of invasive species, visit:
Report illegal activity
Report any illegal activity related to plants and wildlife to 1-877-TIP-SMNR (847-7667)847-7667
Quick facts
Lowland Toothcup was only discovered in Ontario in 1984; that population was subsequently lost
Lowland Toothcup germinates under water; flowering and seed production take place when the waters recede
Lowland Toothcup is typically self-pollinating, but is also visited by small bees and butterflies that gather the nectar
the populations of Toothcup in Canada are believed to be post-glacial relics – a once widespread natural population surviving only in isolated localities in British Columbia and Ontario because of environmental changes
Updated: April 19, 2023
Published: July 18, 2014