Black Ash
Scientific name: Fraxinus nigra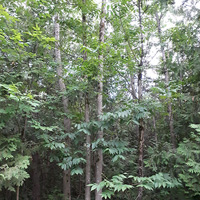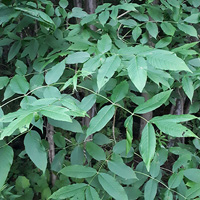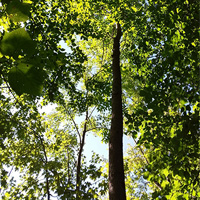 Photo credit: Mike Burrell
Status
Endangered
"Endangered" means the species lives in the wild in Ontario but is facing imminent extinction or extirpation.
Date added to the Species at Risk in Ontario List
January 26, 2022
Read the assessment report (PDF)
What it looks like
Black Ash is a medium-sized, shade-intolerant hardwood tree species that occurs on moist to wet sites such as swamps, bogs and riparian areas.
It is a broad-leaved hardwood tree in the Olive family, growing 15 to 20 m in height, but can grow to as high as 27 m, and 30 to 50 cm in diameter. The leaves are roughly 15-30 cm in size.
Where it lives
Black Ash is predominantly a wetland species found in swamps, floodplains and fens.
Black Ash occurs from western Newfoundland to southeastern Manitoba and North Dakota, ranging southward to Iowa, Illinois, Virginia and Delaware. Black Ash's range extends farther north than any other ash and approximately 51% of the species' global range is within Canada.
Where it's been found in Ontario
Black Ash occurs throughout most of Ontario, except the Far North, ranging from southern Ontario east to the Quebec border, west to the Manitoba border and north to approximately 51° latitude.
Approximately 25% of the global range of Black Ash occurs in Ontario.
What threatens it
Black Ash is highly susceptible to the invasive Emerald Ash Borer (EAB). It is expected that EAB will cause declines in the total number of Black Ash trees by greater than 70% over the next two generations (100 years).
EAB was introduced to the Detroit-Windsor area in the 1990s and has since become established in almost all counties in southern Ontario. It has also been detected in Sault Ste. Marie, the Algoma District, Manitoulin Island and Thunder Bay.
Action we are taking
The Ministry of the Environment, Conservation and Parks is working to determine the best way to protect and recover Black Ash, including how to balance protections for Black Ash with managing invasive Emerald Ash Borer (EAB) and the social and economic realities of Ontarians.
The ministry temporarily suspended protections for Black Ash for a period of two years from the time the species was added to the Species at Risk in Ontario List (Ontario Regulation 230/08). During this time, proponents will not need to seek authorizations for activities that impact Black Ash and its habitat.
The Ontario government supports federal Canadian Food Inspection Agency efforts related to EAB.
Recovery strategy
A recovery strategy advises the ministry on ways to ensure healthy numbers of the species return to Ontario.
Read the executive summary and the full document (September 6, 2022).
What you can do
Report a sighting
Submit your observations of species at risk to the Natural Heritage Information Centre (NHIC), which is Ontario's conservation data centre. Join the (NHIC) Rare Species of Ontario project in iNaturalist to make submitting your observations quick and easy.
Volunteer
Volunteer with species at risk programs, such as community science surveys, through your local nature club, a provincial park or other conservation organizations.
Be a good steward
Individuals, communities and organizations across the province who undertake stewardship or research activities that benefit species at risk and their habitats may be eligible to receive funding through the Species at Risk Stewardship Program (SARSP). The SARSP was created to encourage people to get involved in protecting and recovering species at risk in Ontario through stewardship actions.
Invasive species seriously threaten many of Ontario's species at risk. To learn what you can do to help reduce the threat of invasive species, visit:
Report illegal activity
Report any illegal activity related to species at risk to 1-866-MOETIPS (6638477).
Quick facts
Like other ash (Fraxinus) species, Black Ash has wind-dispersed pollen and seeds and regenerates readily from seed and via stump sprouting.
Black Ash is of cultural significance to Indigenous peoples.
Black Ash trees are currently used for a variety of purposes including lumber, fuelwood, and Indigenous traditional uses (such as producing woven baskets).
Updated: March 09, 2023
Published: February 22, 2022