Ontario Works
Find information about financial assistance, benefits and employment assistance available through the Ontario Works program.
Overview
If you need financial assistance for food and housing, and are in financial need, you can apply for financial and employment assistance through Ontario Works.
Ontario Works offers:
money to help you and your eligible family members with living expenses, including food, and rent
health benefits for you and your eligible family members
employment supports to help you find and keep a job (such as workshops for resume writing, job counselling, job-specific training and basic education)
If you are eligible for Ontario Works, the amount of money you get will depend on your specific situation. In most cases, you must participate in employment-related activities to receive financial help.
You could receive up to $733 a month for basic needs and shelter if you are single.
You may receive more than this for:
benefits (for example, you might get additional money for transportation to medical appointments)
other immediate family members (for example, if you have a spouse or child you will receive a larger amount)
---
How to apply for Ontario Works
You can apply for Ontario Works:
Online: Follow the steps below to apply for Ontario Works online. It takes 20 to 30 minutes. Submit one application for you and your immediate family members who live with you
through your local Ontario Works office in person, by phone or by mail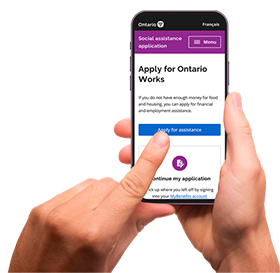 Apply online
If you need support with money for food and housing you can apply for financial and employment assistance from Ontario Works.
Before you apply for Ontario Works
Make sure all family members included in your application are with you when you fill out the form so they can provide their consent and confirm their information. Have your family's identification and tax documents ready, such as:
social insurance numbers (SIN)
OHIP cards
birth certificates
immigration papers
tax returns
banking information
Technical requirements to apply online
To complete the application online, you will need the latest version of one of these web browsers:
Step 1: fill in your personal information
You will be asked to fill out your family's:
full legal names, dates of birth and status in Canada
address
email addresses (for all family members 18 and older)
total monthly income and assets
housing costs
other expenses, such as child care
bank account information (if you have one) to get your payment quickly through direct bank deposit
Once complete, submit your application.
Step 2: Ontario Works reviews your application
A caseworker from your local Ontario Works office will review your application and call you within four business days of submitting your application to schedule an appointment. This does not include weekends and holidays.
Step 3: meet with Ontario Works to sign and verify your application
Meet with an intake caseworker for your verification appointment.
The caseworker might ask you to provide more information, like copies of bills or other documents, so we can verify the information you included in your application.
You will also be asked to sign your application package, including a consent form to allow Ontario Works to access information about you from other government programs or organizations (for example, the Ministry of Transportation, Employment Insurance, Equifax Canada). This information will help to determine if you qualify for assistance.
If Ontario Works determines that you are not financially eligible, you will have 30 days to request that Ontario Works review your information again.
Step 4: get approved and receive your payment
Once the caseworker receives all the information they need, they will tell you within four business days if your application has been approved and how much you may receive.
If your application is approved, your local Ontario Works office will advise when you can expect your first payment.
Step 5: develop a plan
Your caseworker will contact you to schedule an appointment to develop a plan for you to participate in employment-related activities, unless you have specific circumstances that prevent this, such as an illness or caregiving responsibilities.
Check the status of your Ontario Works application
If you applied online
You can check the status of your application after you submit it online. This digital feature is available to most applicants.
To check the status of your online application, you will need your application reference number.
Your application reference number is in the email we sent you if you submitted your application online. It is also displayed on the last page of the online application.
Check the status of your online application
If you applied in person, by phone or by mail
You can find out the status of your application by contacting:
Toll-free: 1-888-999-1142
Toll-free TTY: 1-800-387-5559
Monday to Friday, 8:30 a.m. to 5:00 p.m. (ET)
If you disagree with a decision about your Ontario Works case or application, you can ask for an internal review and may be able to appeal a decision through the Social Benefits Tribunal.
Sign in to MyBenefits
Continue an Ontario Works application, report changes or get information about your Ontario Works or Ontario Disability Support Program case.
Ontario Works forms
If you are applying to Ontario Works or are receiving income support through the program, your Ontario Works caseworker may ask you to submit one or more of the following forms:
Ontario Works payment dates
Ontario Works issues income support payments monthly.
To help you get your income support for the beginning of each month, payments are on the last business day of the previous month.
| Benefit month | Payment date |
| --- | --- |
| April 2023 | March 31, 2023 |
| May 2023 | April 28, 2023 |
| June 2023 | May 31, 2023 |
| July 2023 | June 30, 2023 |
| August 2023 | July 31, 2023 |
| September 2023 | August 31, 2023 |
| October 2023 | September 29, 2023 |
| November 2023 | October 31, 2023 |
| December 2023 | November 30, 2023 |
Ontario Works office locations
Use the social assistance office locator to get contact information for your local office.
Policy directives
You can read the policy directives which provide the requirements and guidance for the administration of the program.
Related
Updated: November 14, 2023
Published: March 27, 2022