Visit a fish culture station
Information about how you can visit a fish culture station, where fish are raised prior to being released into lakes to support fishing and conservation.
Find out about fish stocking
Learn how fish culture stations raise fish to stock Ontario lakes and rivers by:
collecting eggs and milt from fish
disinfecting the eggs and milt to prevent disease
fertilizing and hatching the eggs
rearing and releasing young fish
Book a tour
To book a tour you must call at least 2 weeks in advance. Tours may not be available:
on weekends or holidays
at peak times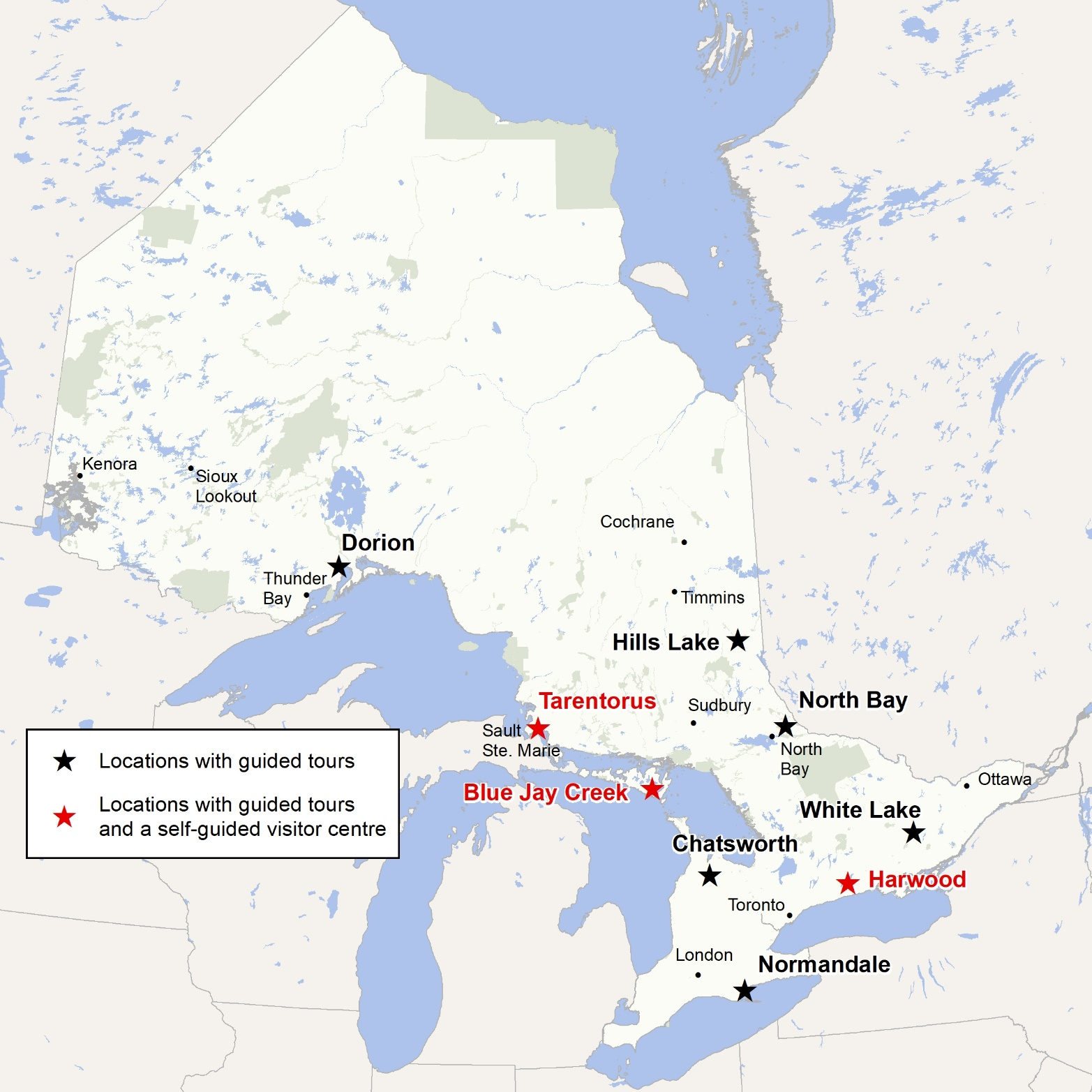 Locations with guided tours and a self-guided visitor centre
Blue Jay Creek Fish Culture Station
RR #1, 242-Highway 542
Tehkummah ON P0P 2C0
705-859-3006
Harwood Fish Culture Station
6388 County Road 18
Harwood ON K0K 2H0
905-342-2860
Tarentorus Fish Culture Station
RR #5, 199 Fish Hatchery Road
Sault Ste. Marie ON P6A 6J8
705-949-7271
Locations with guided tours
Chatsworth Fish Culture Station
236292 Concession 2B
Chatsworth ON N0H 1G0
519-794-2340
Dorion Fish Culture Station
RR #1, 800 Hatchery Road
Dorion ON P0T 1K0
807-857-2322
Hill's Lake Fish Culture Station
RR #2, Fish Hatchery Road
Englehart ON P0J 1H0
705-544-8006
Normandale Fish Culture Station
RR #1, 394 Turkey Point Road
Vittoria ON N0E 1W0
519-426-3142
North Bay Fish Culture Station
10521 Highway 63
Redbridge ON P0H 2A0
705-491-2926
White Lake Fish Culture Station
25900 Highway 7
Sharbot Lake ON K0H 2P0
613-335-2130
If scheduled in advance, French language tours can be arranged at the North Bay, Hills Lake and Tarentorus Fish Culture Stations.
Updated: November 04, 2022
Published: July 17, 2014