Fisheries Management Zone 5
On this page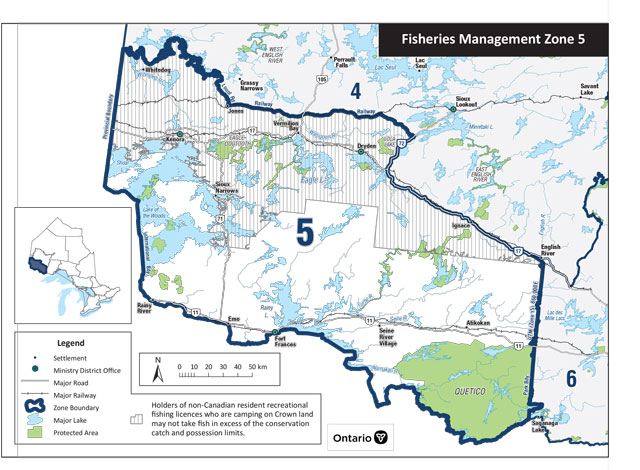 General Information – for all anglers in FMZ 5
See general fishing regulations for more information on how to use this summary.
Rainbow smelt may not be used as bait or possessed for use as bait.
The following waterbodies, or portions of them, have different regulations that are listed in the waterbody exceptions:

Dinorwic Lake (including Minnehaha Lake, Rock Lake and Turtlepond Lake)
Dryberry Lake
Eagle Lake
Experimental Lakes Area
Kakagi Lake
Lake of the Woods
Quetico Provincial Park
Rainy Lake
Rainy River
Seine River System
Shoal Lake
Wabigoon River (including Butler Lake, Larson Lake, Mile Lake, Olsen Lake, Paulson Lake and Trap Lake)
Winnipeg River System

The following species are not present in this Zone and are closed to fishing all year:

Atlantic salmon
channel catfish
Pacific salmon

FMZ 5 is part of the Northwest Bait Management Zone (BMZ). Baitfish or leeches, whether live or dead, may not be transported into or out of a BMZ. See bait for more details.
General Information – for non-Canadian resident anglers in FMZ 5
Conservation Fishing Licence limits must be followed when camping on Crown land in portions of Zone 5 (that is, within shaded area on map).
The Zone-wide daily catch and retain limits and possession limits for Walleye and Sauger combined and Lake Trout is different for non-Canadian residents than for Ontario and Canadian residents.
Zone-wide seasons and limits
Zone-wide seasons and limits apply to all waters in the Zone except for the specific waters and species listed in the species exceptions, waterbody exceptions and fish sanctuaries.
Aggregate limits for trout and salmon (including splake)
Limits: S-5 and C-2; total daily catch and possession limit for all trout and salmon species combined
Brook trout
Season: open all year
Limits: S-5 and C-2
Season: open all year
Limits: S-5 and C-2
Crappie
Season: open all year
Limits: open all year
S-10 and C-5
Lake sturgeon
Season: closed all year
Lake trout
Season: January 1 to September 30
Limits: Ontario and Canadian residents
S-2; not more than one greater than 56 centimetres from September 1 to September 30, and C-1; no size limit

Limits: Non-Canadian residents

Daily catch and retain limit: S-1 and C-1, no size limit
Possession limit: S-2, not more than 1 greater than 56 cm from September 1 to September 30, and C-1, no size limit

Lake whitefish

Season: open all year
Limits: S-12 and C-6

Largemouth and smallmouth bass combined

Season: open all year
Limits: S-4 and C-2; must be less than 35 centimetres from January 1 to June 30
Muskellunge
Season: third Saturday in June to December 15
Limits: S-1; must be greater than 102 centimetres and C-0
Northern pike
Season: open all year
Limits: S-4 and C-2; none greater than 75 centimetres
Rainbow trout
Season: open all year
Limits: S-5 and C-2
Splake
Season: open all year
Limits: S-5 and C-2
Sunfish
Season: open all year
Limits: S-50 and C-25
Walleye and sauger combined
Season: January 1 to April 14 and third Saturday in May to December 31
Limits: Ontario and Canadian residents
S-4 and C-2; not more than one greater than 46 centimetres
Limits: Non-Canadian residents

Daily catch and retain limit: S-2 and C-2; not more than 1 greater than 46 cm
Possession limit: S-4 and C-2; not more than 1 greater than 46 cm

Yellow perch

Season: open all year
Limits: S-50 and C-25
Regulations for all anglers in Zone 5
Species exceptions
Lake trout
Season: closed all year
Centre for Northern Forest Ecosystem Research Lakes:

Lake 20 (49°07′46″N., 92°08′19″W.)
Lake 26 (49°07′23″N., 92°08′40″W.)
Lake 39 (49°05′42″N., 92°09′56″W.)
Lake 42 (49°05′05″N., 92°09′36″W.) (research lakes)
contact Atikokan District Office for more information

Seahorse Lake (49°06′03″N., 93°18′03″W.)
Muskellunge
Limits: S-1; must be greater than 122 centimetres and C-0
Burditt Lake (48°57′13″N., 93°46′43″W.) - Senn Township
Despair Lake (48°52′31″N., 93°39′34″W.)
Esox Lake (49°06′02″N., 93°15′54″W.)
Feather Lake (Quill Lake) - Pipestone Chain (49°00′23″N., 93°42′27″W.)
Footprint Lake (48°54′01″N., 93°36′30″W.)
Lower Manitou Lake (49°15′15″N., 92°59′19″W.)
Manomin Lake (48°52′00″N., 93°43′13″W.) - Fleming Township
Meggisi Lake (49°17′04″N., 92°34′55″W.)
Pipestone Lake - Pipestone Chain (49°04′ 60″N., 93°33′00″W.)
Schistose Lake (49°09′17″N., 93°36′18″W.)
Slender Lake (49°01′60″N., 93°41′ 56″W.)
Weld Lake (49°01′39″N., 93°40′ 7″W.)
Limits: S-1; must be greater than 137 centimetres, and C-0
Rowan Lake (49°19′00″N., 93°33′00″W.)
Waterbody exceptions
Dinorwic Lake (49°37′40″ N., 92°33′25″W.) - including Minnehaha Lake (49°31′27″ N., 92°38′45″ W.) , Rock Lake (49°32′37" N., 92°35′51" W.) and Turtlepond Lake (49°32'43" N., 92°36′46" W.)
Crappie - S-15 and C-10
Largemouth and smallmouth bass combined - S-2 and C-1; must be less than 35 centimetres from January 1 to June 30 and December 1 to December 31, S-4 and C-2; no size limit from July 1 to November 30
Muskellunge - S-1; must be greater than 137 centimetres, and C-0
Walleye

All anglers: none between 46-58 cm, not more than 1 greater than 58 cm

Walleye and Sauger combined

Ontario and Canadian residents: S-4 and C-2
Non-Canadian residents:

Daily catch and retain limit: S-2 and C-2
Possession limit: S-4 and C-2

Dryberry Lake (49°32'49"N., 93°51'00"W.) - including Northwest Bay (48°49'47"N., 92°42'15"W.), Point Bay (49°34'38"N., 93°44'01"W.) and Point Lake (48°09'40"N., 91°32'15"W.)

Fish or fish parts may not be used as bait from January 1 to Friday before third Saturday in May
Only barbless hooks may be used from January 1 to Friday before third Saturday in May
Lake trout - S-1; in one day, possession limit of 2, not more than one greater than 65 centimetres, and C-1; any size
Muskellunge - S-1; must be greater than 137 centimetres, and C-0

Eagle Lake (49°42′ N., 93°13′ W.)

No angling at night for any species
Lake trout - S-1 and C-1; in one day, possession limit of S-2 and C-1; not more than one greater than 65 centimetres
Largemouth and smallmouth bass combined - S-2 and C-1; must be less than 35 centimetres from January 1 to June 30 and December 1 to December 31, S-4 and C-2; no size limit from July 1 to November 30
Muskellunge - S-1; must be greater than 137 centimetres, and C-0
Northern pike - S-4 and C-2; none between 70-90 centimetres, not more than one greater than 90 centimetres
Walleye - S-4 and C-2; none between 46-58 centimetres, not more than one greater than 58 centimetres

Eagle Lake - portions of Eagle Lake including Whiteclay Narrows, Brule Narrows, Niven Bay, Bunyon Lake, Godson Creek, Kekekwa Creek, Wawapus Creek, Bear Narrows, Froghead Bay, Rice Bay, Violet Lake, One Mile Rapids, Two Mile Rapids, Meridian Bay

Fish sanctuary - no fishing from April 1 to May 31

Experimental Lakes Area - Pine Road Area, Dryden District, Lakes 111, 189, 191, 221, 222, 223, 224, 239, 260, 305, 373, 375, 377, 378, 382, 442, 622, 623, 626 and 658

Closed to angling all year – contact Dryden office for more details

Kakagi Lake (Crow Lake) (49°12′60″N., 93°52′00″W.) - Kenora District

Largemouth and smallmouth bass - S-0 and C-0; from January 1 to June 30
Muskellunge - S-1; must be greater than 137 centimetres, and C-0

Lake of the Woods - all portions of Lake of the Woods excluding waters of Clearwater Bay, Deception Bay, Woodchuck Bay, Kendall Inlet, Echo Bay, Cul de Sac Lake and Whitefish Bay including Regina, Snake, Boot, Ghost, Brule, Devils, Atikaminike, Camp, Cloverleaf, Log, Reedy, Willow and Sammons bays, and Knickerbocker, Louis, Cross, and Alfred inlets

Lake of the Woods - including waters of the Western Peninsula, Aulneau Peninsula and an unnamed lake at 49°36′ N., 94°51′ W.

No person who is engaged in sport fishing from a vessel shall possess more fish on board the vessel than the daily limit for that species
Lake whitefish - S-4 and C-2
Largemouth and smallmouth bass combined - S-0 and C-0; from January 1 to June 30
Muskellunge - S-1; must be greater than 137 centimetres, and C-0
Yellow perch - S-15 and C-10

Lake of the Woods - Sabaskong Bay (49°09′ N., 94°09″W.) - Godson Township, Kenora District

Fish sanctuary - no fishing from April 1 to June 14

Lake of the Woods - Echo Bay (49°42′ N., 94°48′ W.), Cul de Sac Lake (49°38′ N., 94°50′ W.), Clearwater Bay (49°42′ N. 94°45′ W.), Deception Bay (49°42′ N., 94°48′ W.), Woodchuck Bay (49°41′ N., 94°2′ W.) and Kendall Inlet (49°44′ N., 94°52′ W)

Fish or fish parts may not be used as bait
Only barbless hooks may be used and for Lake Trout only one barbless hook may be used
A sport or conservation fishing licence is not valid for retaining trout taken by angling from these waters unless the holder has been issued a lake trout tag - contact Kenora office for details on lake trout tags
Lake trout - S-0 and C-0 (except for tag holders); open from third Saturday in May to September 30

Lake of the Woods - Whitefish Bay including Regina, Snake, Boot, Ghost, Brule, Devils, Atikaminike, Camp, Cloverleaf, Log, Reedy, Clipper, Willow and Sammons bays and Knickerbocker, Louis, Cross, Alfred inlets

Possession and/or use of fish or fish parts as bait is prohibited from January 1 to Friday before third Saturday in May
Only barbless hooks may be used from January 1 to Friday before the third Saturday in May
Lake trout - S-1; in one day, possession limit of 2, not more than one greater than 65 centimetres, and C-1; any size

Quetico Provincial Park

Only artificial lures may be used
Only barbless hooks may be used

Rainy Lake (48°43′20″N., 93°15′41″W.)

Largemouth and smallmouth bass combined - S-2 and C-1; must be less than 35 centimetres from January 1 to June 30 and December 1 to December 31, S-4 and C-2; no size limit from July 1 to November 30
Muskellunge - S-1; must be greater than 122 centimetres, and C-0
Northern pike - S-4 and C-2; none between 70-90 centimetres, not more than one greater than 90 centimetres
Walleye - S-4 and C-2; must be between 35-45 centimetres or greater than 70 centimetres and not more than one greater than 70 centimetres

Rainy Lake - Squirrel Falls between Namakan Lake and Rainy Lake, downstream for 250 metres on the north shore and 200 metres on the south shore from the Canadian Kettle Falls Dam

Fish sanctuary - closed all year

Rainy Lake Stanjikoming Bay, Big Canoe River (48°48′ N., 93°13′ W.), Falls River and Pipestone River from Stokes Bay of Rainy Lake upstream to first rapids, Little Canoe River (48°54′ N., 93°18′ W.), Crooked Narrows to Sand Island Falls of Redgut Bay, Halfway Inlet and Lost Bay, Porter Inlet of Redgut Bay, Rat River Bay from the narrows and small island at the entrance to Rat River Bay, upstream to, and including the first rapids of both the West Branch Rat River and the East Branch Rat River

Fish sanctuary - no fishing from April 1 to June 14

Rainy River - from dam in Fort Frances downstream to Wheeler's Point at Lake of the Woods

Lake whitefish - S-4 and C-2
Largemouth and smallmouth bass combined - S-0 and C-0; from January 1 to June 30
Muskellunge - S-1; must be greater than 137 centimetres, and C-0
Walleye - S-2 and C-2; must be less than 46 centimetres from March 1 to April 14
Yellow perch - S-15 and C-10

Rainy River - from Rainy Lake downstream to the Fort Frances dam

Largemouth and smallmouth bass combined - S-2 and C-1; must be less than 35 centimetres from January 1 to June 30 and December 1 to December 31, S-4 and C-2; no size limit from July 1 to November 30
Muskellunge - S-1; must be greater than 122 centimetres, and C-0
Northern pike - S-4 and C-2; none between 70-90 centimetres, not more than one greater than 90 centimetres
Walleye - S-4 and C-2; must be between 35-45 centimetres or greater than 70 centimetres, not more than one greater than 70 centimetres

Seine River System - from Kettle Point of Rainy Lake upstream to Sturgeon Falls Dam (Crilly Dam), situated immediately north of Highway 11, including Little Grassy, Grassy, Shoal, Wild Potato and Partridge Crop Lakes

Largemouth and smallmouth bass combined - S-2 and C-1; must be less than 35 centimetres from January 1 to June 30 and December 1 to December 31, S-4 and C-2; no size limit from July 1 to November 30
Muskellunge - S-1; must be greater than 122 centimetres, and C-0
Northern pike - S-4 and C-2; none between 70-90 centimetres, not more than one greater than 90 centimetres
Walleye - S-4 and C-2; must be between 35-45 centimetres or greater than 70 centimetres, not more than one greater than 70 centimetres

Shoal Lake above Ash Rapids - Kenora District

Live baitfish may not be used as bait or possessed for use as bait
Lake whitefish - S-4 and C-2
Largemouth and smallmouth bass - S-0 and C-0; from January 1 to June 30
Muskellunge - S-1; must be greater than 137 centimetres, and C-0
Walleye - closed all year
Yellow perch - S-15 and C-10

Wabigoon Lake (49°44′09″N., 92°43′52″W.) - including Butler Lake (49°40′ 24″N., 92°39′02″W.), Larson Lake (49°38′23″N., 92°37′06″W.), Mile Lake (49°40′53″N., 92°46′43″W.), Olsen Lake (49°39′06″N., 92°37′47″W.), Paulson Lake (49°37′26″N., 92°36′54″W.) and Trap Lake (49°39′34″N., 92°47′19″W.)

Crappie - S-15 and C-10
Largemouth and smallmouth bass combined - S-2 and C-1; must be less than 35 centimetres from January 1 to June 30 and December 1 to December 31, S-4 and C-2; no size limit from July 1 to November 30
Muskellunge - S-1; must be greater than 137 centimetres, and C-0
Walleye - S-4 and C-2; none between 46- 58 centimetres, not more than 1 greater than 58 centimetres

Wabigoon Lake - Zealand Township, 100 metres from Christie Island

Fish sanctuary - no fishing from April 1 to June 14

Winnipeg River System - from outflow of Lake of the Woods to the Manitoba Border including the waters of Big Sand Lake (50°08′ N., 94°38′ W.), Eaglenest Lake (50°12′43″N., 95°08′40″W.), English River, from the Winnipeg and English Rivers upstream to the Caribou Falls dam, Gun Lake (49°58′ N., 94°39′ W.), Hidden Lake (50°04′52″N., 94°35′48″W.), Little Sand Lake (50°03′ N., 94°42′ W.), Lost Lake (50°01′ N., 94°39′ W.), MacFarlane River to Ena Lake Dam, Middle Lake (49°47′27″N., 94°38′14″W.), Muriel Lake (49°49′ N., 94°41′ W.), Pistol Lake (50°00′ N., 94°43′ W.) and Roughrock Lake (50°06′ N., 94°46′ W.), Swan Lake (50°03′46″N., 94°54′30″W.) and Tetu Lake (50°10′58″N., 95°02′10″W.)

Lake whitefish - S-4 and C-2
Largemouth and smallmouth bass combined - S-0 and C-0; from January 1 to June 30
Muskellunge - S-1; must be greater than 137 centimetres, and C-0
Walleye and sauger combined - open from January 1 to March 14 and third Saturday in May to December 31
Walleye and sauger combined - S-4 and C-2; Ontario and Canadian resident limit, S-2 and C-1; Non-Canadian resident limit
Walleye - must be between 35-45 centimetres
Sauger not more than one greater than 45 centimetres
Yellow perch - S-15 and C-10

Winnipeg River (west branch) - from Norman Dam to westerly tip of Tunnel Island, thence in a southwesterly direction to the north-east survey post Lot B, Plan M33 (Part of Location A16)

Fish sanctuary – no fishing from April 1 to June 14

Bait restrictions

Live fish may not be used as bait or possessed for use as bait

High Lake (49°42′ N., 95°08′ W.) - Territorial District of Kenora
Shoal Lake - see waterbody exceptions

Fish or fish parts may not be used as bait

Fish sanctuaries

No fishing - closed all year

No fishing - from January 1 to May 31 and October 1 to December 31

Lilac Lake (48°17′ N., 92°22′ W.) - between Little Vermilion Lake and Lac la Croix
Trout Lake (48°17′ N., 92°20′ W.) - between Little Vermilion Lake and Lac la Croix

No fishing - from January 1 to July 31 and September 1 to December 31

Scattergood Lake (49°17′ N., 92°42′ W.)

No fishing - from February 1 to June 30 and August 1 to December 31

Crook Lake (49°04′ N., 92°08′ W.)
Little Grey Trout Lake (49°03′ N., 92°03′ W.)
Rutter Lake (49°04′ N., 92°12′ W.)
Secret Lake (49°04′ N., 92°08′ W.)

No fishing - from April 1 to May 31

Eagle Lake - see waterbody exceptions
Passover Creek - between the southern end of Meridian Bay of Eagle Lake (49°42′ N., 93°13′ W.) and Chancellor Lake

No fishing - from April 1 to June 14

Crowrock Lake - upstream from the narrows at 49º00′00″N., 91º43′50″W.
Ladysmith Creek and Unnamed Creek - Ladysmith Township, between Rugby Lake and the confluence of Ladysmith Creek and the unnamed creek flowing out of Tent Lake
Lake of the Woods - see waterbody exceptions
Moose Creek - between Big Moose Lake and Cobble Lake including part of Cobble Lake
Nugget Creek - Zealand Township, between Hughes Creek and C.P.R. crossing at Wabigoon Lake
Rainy Lake - see waterbody exceptions
Rugby Lake (49°57′28″N., 92°57′48″W.) - the northern arm that falls within Ladysmith and Rowell Townships
Trout River (49°01′ N., 92°53′ W.) - from the falls of Sakwite Lake to Otukamamoan Lake
Wabigoon Lake - see waterbody exceptions
Wabigoon River - Satterly Township, Snake Bay Road to the Wabigoon Lake Indian Reserve
White Otter Lake (49°07′ N., 91°52′ W.)
Winnipeg River - see waterbody exceptions