School bus licence classes B and E
A class B licence is needed to drive any school-purposes bus having seats for more than 24 pas­sengers. It also allows you to operate vehicles included in classes C, D, E, F and G, but not motorcycles.
A class E licence is needed to drive any school-purposes bus having seats for not more than 24 passengers. It also allows you to operate vehicles included in classes F and G, but not motorcycles.
Definitions
Here are definitions of some words used in this section.
A bus

a motor vehicle designed for carrying 10 or more passengers and used for the transportation of people

A school-purposes bus is

a school bus, as defined in subsection 175 (1) of the Highway Traffic Act; or a bus while being operated by or under contract with a school board or other authority in charge of a school for the transportation of adults with developmental disabilities or children.

A school bus

is painted chrome yellow, and displays on the front and rear the words "School Bus" and on the rear the words "Do not pass when signals flashing."

A school-purposes vehicle is

a van or station wagon, while being operated by or under a contract with a school board or other authority in charge of a school, for the transportation of six or more adults with a developmental disability, six or more children or six or more persons from both categories.

Median strip

a median is a physical barrier such as a raised, lowered, earth, or paved strip constructed to separate traffic travelling in different directions. Vehicles cannot cross over a median strip.

Highway

a common and public highway, street, avenue, parkway, driveway, square, place, bridge, viaduct or trestle, any part of which is used by the public for the passage of vehicles, including the shoulders of the road and the land between property lines.

Roadway

the part of the highway that is improved, designed or ordinarily used for traffic, not including the shoulder. Where a highway includes two or more separate roadways, the term road­way refers to any one roadway and not all of the roadways together.
Qualification requirements for classes B and E
An applicant for a class B or E driver's licence must:
Be at least 21 years of age
Meet medical and vision standards
Hold a valid Ontario class G or higher licence or equivalent issued in a province or territory of Canada
Have successfully completed a school-bus driver improvement course approved by MTO and be able to show proof of successful completion with a valid course certificate (valid for five years)
Have knowledge of bus equipment maintenance and passenger safety and control
Pass an MTO driver examination or obtain a certificate of competence from a recognized authority by passing a vision screening, knowledge test and a driving test in a bus of appropriate size
Not have accumulated more than six demerit points on their driving record
Not have had a driver's licence under suspension at any time within the preceding 12 months as a result of having been convicted or found guilty of:

driving under suspension
speeding over 50 km above the limit
careless driving
racing on a highway
leaving the scene of an accident
a Criminal Code of Canada offence committed by means of a motor vehicle or while driving or having care and control of a motor vehicle
flight from police

Not have been convicted or found guilty within the preceding five years of two or more offences under the Criminal Code of Canada, committed on different dates by means of a motor vehicle, or while driving or having care and control of a motor vehicle
Not have been convicted or found guilty within the preceding five years under section 4 or 5 of the Narcotic Control Act of Canada
Not have been convicted or found guilty within the preceding five years of certain sexual or moral offences under the Criminal Code of Canada
Not have been convicted or found guilty of any offence for conduct that affords reasonable grounds for believing that they will not properly perform their duties, or is not a proper person to have custody of children
In addition, a holder of a class B or E driver's licence may not accumulate more than eight demerit points.
How to obtain a class B or E driver's licence
Pick up the necessary forms from any DriveTest Centre in Ontario, including the medical-examination report form and study material.
Take the medical report to a physician of your choice. When the medical examination has been completed, return the report to the DriveTest Centre selected for your tests. Only applicants with satisfactory medical reports may take a knowledge test for a classified licence.
A criminal-record search will be initiated when you pay your application fee.
You are required to pass the following:

Vision screening
Knowledge test including a traffic-signs recognition com­ponent and a test of operating knowledge of a school bus
Driving test in a vehicle of appropriate seating capacity
A satisfactory driver record search

Successfully complete a ministry- approved school-bus driver improvement course and obtain a certificate, which is valid for five years.
Vision and knowledge test checklist, classes B and E
Before taking the class B or E knowledge test, make sure you have studied the Official MTO Bus Handbook.
Bring the following items to the test:
Two pieces of identification or Ontario driver's licence
Complete medical report form
Money for test fees — cash, debit or credit card
Glasses or contact lenses (if you need to wear them to read or write)
Road test, classes B and E
On your class B or E road test:
You will demonstrate a daily inspection. You will name the item of equipment checked and briefly describe its condition.
You will drive in traffic and handle the vehicle safely according to the class of licence for which you are applying.
You will demonstrate loading and unloading.
You will be required to reverse the vehicle into a parking bay or marked area.
You will demonstrate proper procedures at all railway crossings.
Road test checklist, classes B and E
Bring the following items to the road test:
Appropriate vehicle in good working order
Glasses (if you need to wear them to drive)
Wheel chocks or blocks, if the vehicle is equipped with air brakes
Arrive at least 30 minutes before your road-test appointment. All road tests have a set time frame. Before you begin your test, the examiner will inform you of the amount of time you have to complete it.
Semi-annual inspections, classes B and E
Operators are responsible for having each of their vehicles inspected semi-annually by a licensed motor-vehicle inspection mechanic. The mechanic checks to ensure that the bus is in compliance with all maintenance requirements and component performance standards detailed in the applicable regulations and schedules of the Highway Traffic Act.
If the bus is in compliance with all requirements, the mechanic or another person authorized by the inspection station completes a semi-annual inspection certificate and inspection record. This document comes with a corresponding semi-annual inspection sticker (decal), which indicates the month and year of the inspection. The mechanic or other authorized person places the decal on the outside lower right corner of the windshield or right side of the bus as close to the front as possible.
Daily inspection, classes B and E
A driver is not permitted to drive a bus, motor coach, school bus, or, a school-purposes vehicle unless the driver or another person has, within the previous 24 hours, conducted an inspection of the vehicle and completed an inspection report. The driver must continue to check all systems throughout the day for defects, because the condition of the vehicle can change. Both the driver and operator are responsible for the safe operating condition of the commercial motor vehicle. By staying alert, you can spot trouble before it causes a breakdown or collision.
The inspection is conducted in accordance with an inspection schedule. It provides a list of vehicle systems and components that the driver is required to inspect, and provides a list of defects to guide and assist the driver.
The schedule for the inspection depends upon the type of bus and its use, as follows:
Schedule 2: trailers towed by school purposes buses.
Schedule 5: yellow school buses, school-purposes buses.
The inspection schedule divides defects into two categories: major and minor. A major defect such as a flat tire and broken main leaf spring poses immediate safety risks, while minor defects may be less urgent (for example, broken clearance lamps and a damaged wiper blade). When a defect is identified, the driver must record the defect on the daily inspection report, inform the operator, and monitor the condition. Drivers are not permitted to operate a vehicle with a major defect.
A completed, signed daily inspection report is required even when no defect is found. Drivers must carry both the current inspection report and the applicable inspection schedule at all times. Electronic reports and schedules are permitted.
For the full inspection schedules outlining all major and minor defects, which all commercial vehicle drivers are required to complete daily, refer to the Ontario Regulation 199/07 "Commercial Motor Vehicle Inspections" in the Highway Traffic Act. For additional information on how to perform a daily inspection in accordance with Regulation 199/07, see Module 8 of the Trucks and Buses, Commercial Vehicle Operators' Safety Manual.
Outside inspection
Alternating lights, front
Headlights (low and high beams) directional signals, parking and clearance lights
Windshield and wipers
Engine compartment: fluid levels, wiring, belts, hoses and hydraulic brake-fluid leaks (if so equipped)
Tires (retreads on rear wheels only)
Wheel nuts, hubs and fasteners
Exhaust system for leaks
Directional, stop tail and clearance lights
Emergency exit
Alternating lights, rear
Entrance door
Body condition and frame
Fuel system (tank, cap, and for leaks)
Signs (for cleanliness and legibility)
Stop arm and pedestrian student safety crossing arm
Coupling devices, if applicable
Cargo securement
Dangerous goods, if present
Suspension system
Air brakes for audible air leaks and push rod travel
Inspection stickers
Inside inspection
Steering wheel (for excessive freeplay)
Brake pedal reserve and fade
Brake booster operation
Brake-failure warning light
Parking brake operation
Brake air-pressure or vacuum gauge
Warning signal, low-air pressure/vacuum
Interior (for exhaust fumes)
Signal and hazard lights, switch and pilot
Alternating lights, switch and signal device
Interior lights
Windshield washer and wipers
Windshield and windows
Mirrors, adjustment and condition
Defroster and heaters
Horn Stop arm mechanism
Driver's seatbelt and seat security
Service door and controls
Passenger's seat security
Emergency exit and warning signal
Floor covering (tripping hazards)
Fire extinguisher
First-aid kit Flares or reflectors
Interior (for cleanliness)
Passenger seatbelts (if so equipped)
Driver controls (accelerator pedal, clutch and required gauges)
Passenger compartment (stanchion padding, damaged steps or floor, damaged or insecure overhead luggage rack or compartment)
Check accessibility/mobility devices and safety restraints, if applicable
Final check before driving onto the highway:
Driver's seatbelt fastened
Drive forward and brake to a stop to test the service brake
Additional check of all gauges — heat, oil and vacuum, etc.
Complete log-book entry
Note: A bus (other than a motor coach) that has previously been used by the same owner as a school purposes bus, can be inspected using schedule 5, even on days when the bus is not being used for a school purposes trip.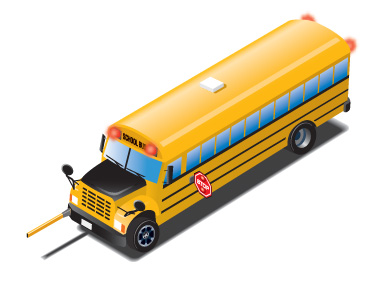 Diagram 1-2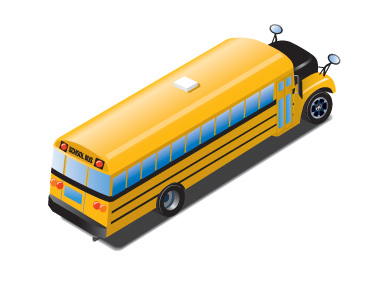 Diagram 1-3
The daily road check (while driving the vehicle)
Drivers are required to examine and observe the condition of the vehicle during the day or trip. Plan a road check to evaluate your vehicle's steering, suspension, clutch, transmis­sion, driveline and other components to determine whether the engine performs properly, and whether the brakes have enough stopping power.
You can do a road check on the way to pick up the first passengers of the day.
Check the suspension
Broken springs, ruptured air bags and faulty shock absorbers may cause sag, bouncing, bottoming and excessive sway when under way.
Engine check
Be alert for any unusual engine noises, vibrations or lack of normal responses.
Check the steering
Free play or lash in the steering system is the distance the steering wheel moves before the tires begin turning. Check with the engine on and the wheels straight ahead; turn the steering wheel in both directions with your fingers until you can feel the resistance of the tires. If the steering wheel rotates too far, there is excessive free play or lash in the steering system.

Power steering should be quiet, and the vehicle should steer easily in turns or when going over bumps. Look for unusual ride or handling.
Check transmission and clutch
A manual transmission should allow for smooth, easy gear changes. The clutch should engage easily and smoothly without jerking, slipping excessively or chattering. Never "ride" the clutch pedal. A properly adjusted clutch pedal should have some free play when the pedal is fully released. While changing gears, carefully control the speed of the engine to shift without jerking or excessive clutch slippage. Erratic or careless gear shifting wears out the clutch.
Check tires and wheels
Another important component of vehicle safety are tires and wheels. You must check the tires and wheels of your vehicle as part of the pre-trip inspection to ensure that they meet safety standards. For example, you must check your tires for appropriate tread depth and your wheels to make sure they are securely attached.

It is also a good safety practice to inspect the wheels, wheel fasteners and tires after having new tires or wheels installed. Wheel manufacturers recommend having fasteners rechecked between 80 km and 160 km after installation.

Wheels and tires must be installed by a certified tire installer or a mechanic.
Test parking brake
To check this brake, put the vehicle in gear while the parking brake is on. The brake should be able to hold the bus stationary with the transmission in gear and the engine at idle speed.
Check the brakes
Test at low speeds, bringing the vehicle to a complete stop. The vehicle should stop in a straight line. There should be no pulling to one side or excessive noise. Note any extra pedal pressure or sponginess. Ensure at all times that brakes are not out of adjustment. Do not operate the vehicle until such conditions have been repaired.
Note: Driving with the parking brake on is the most frequent cause of parking brake failure.
Stay alert to the condition of your vehicle
Drivers should quickly sense the "thump-thumping" of a flat tire, or one that is underinflated. Keep the right air pressure in the tires to prevent premature tire wear, failure and breakdown. The air pressure in your spare tire should be the same as the pressure in the tire on the vehicle carrying the highest pressure. Again, recognize unusual noises or handling. A vehicle should not be driven with any of these defects.

A police officer or appointed ministry officer has the authority to perform a safety inspection at any time and any location.
Summary
By the end of this section, you should know:
The qualifications and requirements for a class B or E licence
How to obtain a class B or E licence
How to perform the daily road check