There are two types of offset backing: driver side where you offset back to the left; and passenger side where you offset back to the right.
Drive straight forward until the vehicle is in a straight line.
Turn the wheel all the way to the left angling the trailer toward the destination.
Back up while watching the right mirror until the outside edge of the tractor tires lines up with the middle of the landing gear.
Stop and turn the wheel to the right as far as possible.
Back up until the tractor is straight and in line with the trailer.
Straighten the wheels. Look out both mirrors while slowly backing toward the destination.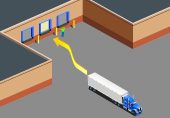 Updated: August 25, 2022
Published: January 18, 2021